More News
Ask Toontown: Riggy Marole
Posted by Riggy Marole on September 13, 2016 at 2:00 PM
Welcome back to another segment of Ask Toontown, where YOU get to decide the content! We've asked our followers over on Twitter and Facebook to send in questions for none other than
Riggy Marole
, the host of ToonFest, who has chosen a bunch to answer!
Follow us on Twitter, Facebook, or Google+ to stay up to date on future opportunities to have your questions answered by a Toon on the blog!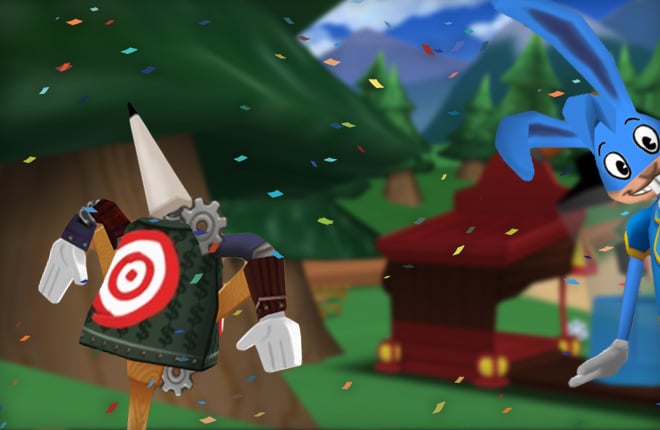 A Word From Riggy
I'm
BACK
, bucko's! I ain't seen the lot of you since ToonFest last year, and let me tell ya's, the Toon Council wouldn't have hired me as host again if I didn't have a whole shoe-full of these anticipatin' ideas to spruce up the "celebración de Toon" that we've got going on around here.
HAH
, you're gonna love 'em!
Now it may just be the birds flyin' round my noggin again, but I've been hearing a lot of Tweets and Twitters in need of answerin'.
Lucky for you, I've just finished eating an entire jar of Jellybeans -- with extra sugar, too! HAHAHA, let's get this questionnaire going!
Questions and Answers
---
@TT_Rewritten Dear Riggy, how did you get that stylish haircut? #AskToontown

— Alexander (@alexander6153) September 12, 2016
First step:
It's all in the moisturiza.
Volume, shine, it gives it all. I've even got my own bear barber here on the ToonFest grounds, you know. I call him Barb. His name's actually Jimmy, but he don't mind a bit.
Anyways, I wouldn't worry much about the hair, with those fancy hats you got. Maybe one day you'll be able to get a nice cut like mine!
---
Oi, Fluffy, what a guy! I could chat with that little fella for hours. He wouldn't talk back, o' course, in fact usually he'd run off and Flippy would go after him. Up until he ran off for
good
, that is.
Don't worry about it, that rascal is just applying my very own teachin's: NEVER give up on hide and seek until they find ya, even if
they
give up! I once went for six whole months of my life hiding in a jellybean machine, you know. Ate half of the supply in a single sitting!
I swear to ya, I still see that green blob poppin' his head around every now and then. He's just waitin' for us to find him!
---
#AskToontown Riggy, what was the hardest part of the process for this year's Toonfest? (Planning, preparing, etc.)

— Derpy Vegeta (@WarOfTheShadows) September 12, 2016
That's a toughy you've got there. We've been workin' away on ToonFest for months, and joining my staff o' bears this year is a whole new set of carnies coming in.
I can tell ya that it's taken a lot of time to get those new guys coordinated correctly, but you'll love 'em as much as bacon!
@TT_Rewritten Hey Riggy, are you good at rigging carnival games? #AskToontown

— Max Wendricks (@personinroom) September 12, 2016
Riggin'? The only riggin' I do around here is all the rigmarole of making those games WORK! If anyone's rigging the games around here, it's gotta be Cleff. I'd keep an eye on that duck if I was you!
---
#AskToontown Riggy, how hard was it cleaning up all the confetti from last year? There must have been tons of it everywhere!

— EpicrockerTT (@EpicrockerTT) September 12, 2016
Oy, you don't wanna KNOW! I'm gonna tell ya anyway though: There was tons and tons of the stuff. I was makin' confetti angels for days until they told me that I was starting to damage the landscaping from flailin' my arms around so much!
We've got the confetti in the area looking even better for this year, so brace yourself for that!
---
Will the toon election start at Toonfest? #AskToontown

— Shiina (@Zekk_en) September 12, 2016
I've got Alec Tinn on speed-dial the moment that any species is in need of err- electin', I suppose!
---
#AskToontown What is the idea behind the 'mineshaft/tunnel' and the bent rails coming from it?

— Mailmare Seasonals (@MailmareSeasons) September 12, 2016
Strange thing, that mineshaft. Personally I'd love to go explorin', but my jackrabbit jump can't quite make it even with the help of the trampolines. I'd say it leads somewhere over to Timbuktoon -- their main export is Aooga horns, and I've heard plenty echoin' in there.
---
Shoot, do you expect us to rip you off with those same items? We're havin' the items from last year for those who couldn't get them, plus a whole truckload more. Gotta add to my WORLD-RENOWN bowtie collection!
In fact, if I had it my way, every single one of those items would be itty bitty bowties. Classy, ya know? But what can I say, I'm a crowd pleasa!
---
Will I show up?
WILL I SHOW UP?
You bet ya britches that I'm gonna be cruising around ToonFest. Maybe it was YOU who didn't show up last year, eh? Someone's gotta run the place, but I'm thinkin' with my extra staff I'll be able to come around.
---
#AskToontown How long does it take to prepare for Toonfest?

— Maddy J (@sconeandchurro) September 12, 2016
It's taken years, it's taken DECADES, IN FACT I'd even say it's taken EONS! -- But my calanda' says we've been working for a few months. Eh, that's showbiz.
Heh.
---
Now that's all, folks -- all until ToonFest that is! I've gotta get back to my plannin', and let me tell ya, you're in for a treat. We've got lots of new ways for you to celebrate and plenty to spend ya tokens on yet again. I may even buy myself a brand spankin' beauty of a bowtie for the occasion.
Thanks for the Tweets, Twitters, and Toonbookin' -- I'll see ya all on September 19th at the MAIN EVENT! The GRAND SPECTACULAR! The -- bah, I'll just see ya at
ToonFest
.
---
Comments
Sorry! Comments are closed.
---
---
---
---
---
---
---
---
---
---
---
---
---
---
---
---
---
---
---
---
---
---
---
---
---
---
---
---
---
---
---
---
---
---
---
---
---
---
---
---
---
---
---
---
---
---
---
---
---
---
---
---
---
---
---
---
---
---
---
---
---
---
---
---
---
---
---
---
---
---
---
---
---
---
---
---
---
---
---
---
---
---
---
---
---
---
---
---
---
Back To Top