More News
ToonFest: Welcome to the Party!
Posted by Riggy Marole on September 19, 2015 at 2:20 PM
Toons from all over, far and wide, let me be the first to finally welcome you to
ToonFest 2015
! The name's Riggy Marole, 'gents -- spelled with an R, an I, a Y, and a few G's thrown in there.
I'm here as your official "Tour de Part-ay" guide for everything ToonFest, and look fellas, this year won't be one to forget. The gates to the area are soon to open, and it's my job to give you the whole rigmarole of this year's festivities.
HA!
Let's get started, shalln't we?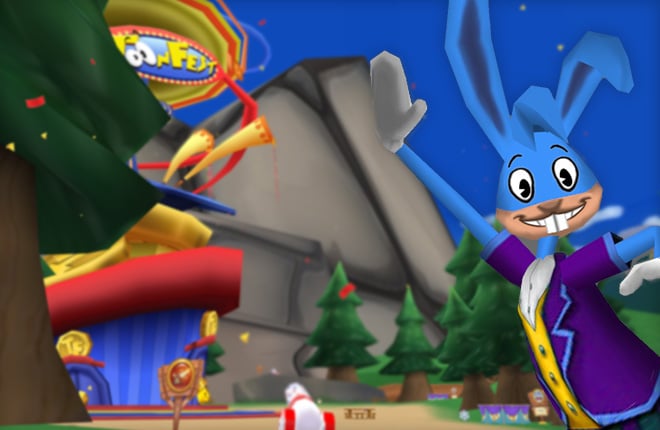 The ToonFest Grounds are BACK!
That quaint little tunnel in the middle of Acorn Acres has opened up again, and this time it isn't for a barbecue! Those Toon Troopers - the "elves" I like to call them (And they don't enjoy it one bit!) - have went through and restructured the area for all sorts of new activities.
As you walk into the winding woods, in addition to last year's events, you'll find yourself met with all-new activities to play with, and some delightfully distracting decor! I tell you, they couldn't get me away from the confetti cannons for hours when I first saw the construction area. I was taken away in a straight jacket!
The Introductory Intro of ToonFest Tokens!
Jellybeans -- never really been a fan of spending them. I'd much rather eat 'em. Problem is, I fill my mouth so high that I never have enough spare to actually
buy
things, ya know? Luckily, this year's ToonFest brings the becoming of the newest in anti-edible monetary solutions:
ToonFest Tokens!
For every game you get, you'll grab a few ToonFest Tokens at the end to be added straight to your jar that you get to carry around everywhere with yas'. What can you spend them on?
I don't even know!
The Toon Council has locked up a bunch of doors straight in the center of ToonFest, connected to that big tower and all. As the event goes on, each of those doors will be opened up with all sorts of valuables and treasures to fill up your fun-filled desires. Grab as many tokens as you can get ahead of time!
Time's a Flyin', and There's More to Come!
Unlike the ToonFest of year's past, it's my absolute exciting pleasure to announce that ToonFest will be lasting for
an entire month
this year! That means from now until
October 19th
, this big bad party isn't coming to a halt even once.
Don't you buy your ticket for the next hype train on track five just yet, because they extended that date for a good ol' reason. What that means is
new games, new activities, new items, and new events
will be added right up until the very end, and I'll be right here with you through it all.
Hoof. Heh. Wheeeeeewwww.
I got myself carried away up there. Look folks, ToonFest is starting up pretty soon. As soon as that red button appears in the top right of your screen, you'll know it's there. In the meantime, sit tight as the elves run around to glisten things up. You know I like my glisten.
See you in the next ToonFest update, kiddos. It's time to get our party on, for the biggest celebration in the TOONIVERSE!
September 19, 2015 [ttr-beta-v1.10.0]
Features:
• ToonFest 2015 has opened its gates!

The ToonFest Grounds have received a slight makeover.
• Confetti is falling from the tower!
• Trampolines and Cannons have been scattered throughout the area, with more activities to come.
• The ToonFest fishing pond is now the only pond in Toontown to give out ToonFest Tokens!
• ToonFest will last until October 19th, and more activities will be added throughout it. Stay TOONed!


Tweaks:
• Toons now continue running when throwing pies.

Maintenance:
• Miscellaneous maintenance and bugfixes.

---
Comments
Sorry! Comments are closed.
---
---
---
---
---
---
---
---
---
---
---
---
---
---
---
---
---
---
---
---
---
---
---
---
---
---
---
---
---
---
---
---
---
---
---
---
---
---
---
---
---
---
---
---
---
---
---
---
---
---
---
---
---
---
---
---
---
---
---
---
---
---
---
---
---
---
---
---
---
---
---
---
---
---
---
---
---
---
---
---
---
---
---
---
---
---
---
---
---
---
---
---
---
---
---
---
---
---
---
---
---
---
---
---
---
---
---
---
---
---
---
---
---
---
---
---
---
---
---
---
---
---
---
---
---
---
---
---
---
---
---
---
---
---
---
---
---
---
---
---
---
---
---
---
---
---
---
---
---
---
---
---
---
---
---
---
---
---
---
---
---
---
---
---
---
---
---
---
---
---
---
---
---
---
---
---
---
---
---
---
---
---
---
---
---
---
---
---
---
---
---
---
---
---
---
---
---
---
---
---
---
---
---
---
---
---
---
---
---
---
---
---
---
---
---
---
---
---
---
---
---
---
---
---
---
---
---
---
---
---
---
---
---
---
---
---
---
---
---
---
---
---
---
---
---
---
---
---
---
---
---
---
---
---
---
---
---
---
---
---
---
---
---
---
---
---
---
---
---
---
---
---
---
---
---
---
---
---
---
---
---
---
---
Back To Top