More News
ToonFest: Plenty of Pretty Prizes!
Posted by Token Taker Ted on October 11, 2015 at 2:00 PM
Step right up folks, step right up! I've got yer shirts, I got yer accessories, I've got all sorts of prizes right here for YOU in exchange for some of those lovely ToonFest tokens of yours. A fair exchange, as sure as the mustache on my muzzle!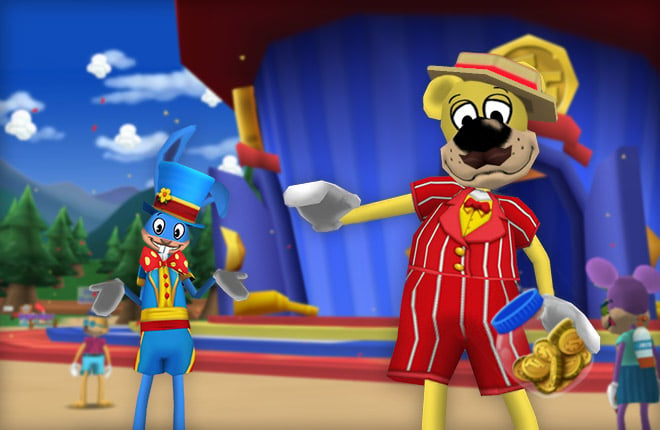 The doors to the ToonFest tower have opened up to reveal the shop of myself and my fellow friendly
Token Takers
, who will gladly exchange various goods for any tokens you've earned throughout ToonFest! Make sure to spend 'em all, because they'll melt before next year!
Melt, I say? You heard me correct, buck-o. Believe it or not, those tokens are made out of pure chocolate! Us Toons certainly wouldn't go back on edible currency, you know. Just don't tell Riggy -- there's a reason we convinced him that these coins are solid gold, and it ain't for the fortune! He'd go crazier than his cousin jackrabbit if he consumed as much chocolate as he does jellybeans.
In addition to the
MARVELOUS
prizes I've got ya, we've got a special one this year -- the
Limited-time ToonFest Toon Color!
You don't think we'd let Riggy Marole keep that paint to himself, eh? If you're enjoying his color, you may want to pick it up for yaself! Just remember -- it's permanent, and only available during this time of the year.
Stop on by and pick up a few of these prizes, which will be available until 11:59PM Toontown Time (PST) on
October 19th
. Tell 'em I sent 'cha!
---
Comments
Sorry! Comments are closed.
---
---
---
---
---
---
---
---
---
---
---
---
---
---
---
---
---
---
---
---
---
---
---
---
---
---
---
---
---
---
---
---
---
---
---
---
---
---
---
---
---
---
---
---
---
---
---
---
---
---
---
---
---
---
---
---
---
---
---
---
---
---
---
---
---
---
---
---
---
---
---
---
---
---
---
---
---
---
---
---
---
---
---
---
---
---
---
---
---
---
---
---
---
---
---
Back To Top