More News
ToonFest: The Big Bean Bag Toss
Posted by Riggy Marole on September 21, 2015 at 12:00 PM
Whew, what a weekend!
Heh.
Who knew a trampoline spring could cause so many problems? As we prepare the next stages of ToonFest 2015, I've stopped by to tell you all an extremely extraordinarily exciting announcement:
I'm tossing away all of my Jellybeans!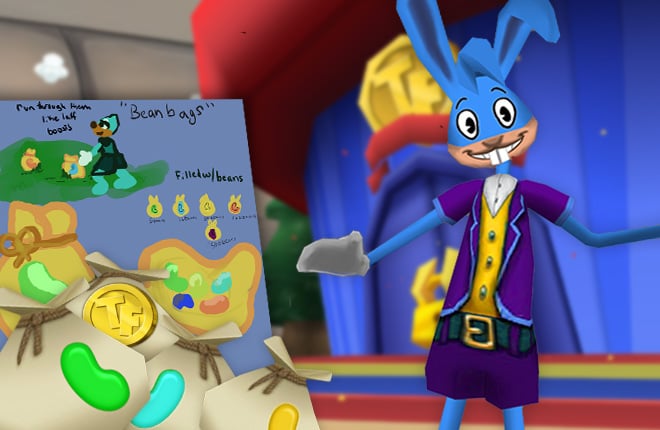 Back in July, the Toon Council held the
"Prep for ToonFest" Contest
where Toons from all over the globe could submit their ideas to be constructed for this very event.
As part of my job as your ever-so-animated "Host with the Most" of ToonFest, it was of course part of my rather reasonably receding list of responsibilities to look through these ideas, and I happened to see one that seemed to fit the bill...
The idea was
EXTRAORDINARY!
It was
MAGNIFICENT!
Some may even call it
ONLY SOMETHING RIGGY WOULD PICK!
Rascals and rabbits,
this
idea
so
happens
to be
CALLED...!
Bean Bags
, an idea by Taylor! Just think about it: I've got all of these jellybeans that I've got no use for anymore, and that idea of theirs is so cleverly simple that I can just fill up a bunch of bags of my own beans and toss them all around ToonFest! After all, you'll be needing them for some of the upcoming activities.
Don't fret if your idea didn't get chosen, because guess what:
There were too many ideas to choose!
Taylor's idea was the most simply simple standard, but I've got
alllllll
of your other ideas sitting right here in the bottom of my shoe. Every. Single. One.
For any future ideas we choose to use from the "Prep for ToonFest" contest, we'll make sure to credit you accordingly and send you a Toontown Prize Pack of your very own.
Now, my dear fretful friends, gather some friends and go on a hunt -- more activities are coming your way soon!
September 21, 2015 [ttr-beta-v1.10.1]
Bugfixes:
• Fix miscellaneous bugs relating to ToonFest.

September 21, 2015 [ttr-beta-v1.10.2]
Tweaks:
• Fix ToonFest Token conversion for fishing.

Bugfixes:
• Fix a district reset relating to ToonFest activities.
• Properly play the ToonFest theme music when logging out of the game.

September 21, 2015 [ttr-beta-v1.10.3]
Features:
• Riggy has scattered Bean Bags throughout ToonFest, an idea by Taylor -- our "Prep for ToonFest" contest winner!

Tweaks:
• Trampolines now use ToonFest tokens rather than jellybeans.
• Add a new sound effect for ToonFest tokens.
• Increase visibility of fish shadows in the ToonFest pond.

---
Comments
Sorry! Comments are closed.
---
---
---
---
---
---
---
---
---
---
---
---
---
---
---
---
---
---
---
---
---
---
---
---
---
---
---
---
---
---
---
---
---
---
---
---
---
---
---
---
---
---
---
---
---
---
---
---
---
---
---
---
---
---
---
---
---
---
---
---
---
---
---
---
---
---
---
---
---
---
---
---
---
---
---
---
---
---
---
---
---
---
---
---
---
---
---
---
---
---
---
---
---
---
---
---
---
---
---
---
---
---
---
---
---
---
---
---
---
---
---
---
---
---
---
Back To Top