More News
Enter the "Prep for ToonFest" Contest!
Posted by The Toontown Team on July 9, 2015 at 9:30 AM
September 19th, Toons!
-- In case that date doesn't stand out to you, that's the date of the official celebration of all things Toontown, which marks the two year anniversary of Toontown Rewritten! We started the tradition last year of hosting a huge in-game celebration for the event, and we need
YOUR
help this year to create it.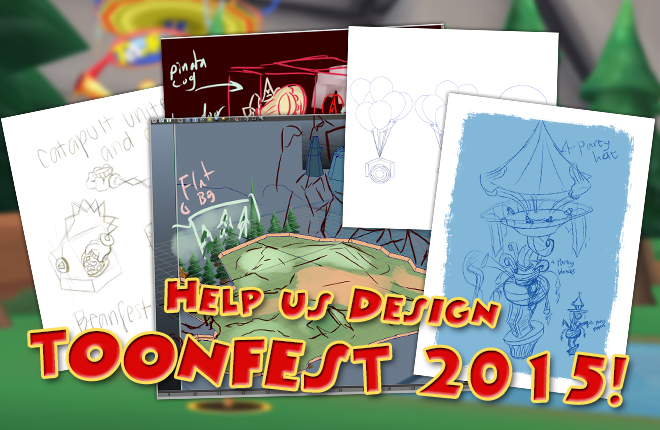 The folks who came to OMG!Con got to celebrate a real world ToonFest for Toontown Online's anniversary, but the real in-game ToonFest makes things even bigger and better since
everyone
can attend!
Even better than that, we're pleased to announce the first official Toontown Rewritten contest which lets YOU participate in the designing of ToonFest. Grab a pen, some paper, or maybe some software -- we need your help to "Prep for ToonFest"!
Here is everything you need to know:
To enter, use your imagination to think of a decoration, outfit, accessory, or small activity that you would like to see at ToonFest. Draw a picture or diagram of it along with a short note describing your idea.
Don't worry if you aren't the best artist. This contest is centered on ideas, not artwork. As long as you put in your best effort, we don't mind.
The winner's idea will be created by the Toontown team and put into the game itself as part of ToonFest, along with receiving a real life Toontown Prize Pack!
Don't let your ideas get too complex -- creativity is our middle name, but we only have a short time to make it! The best ideas often start as the simplest.
Entries can be sent in electronically to

[email protected]

(Make sure to attach your image and description!) or mailed to us when requesting a Toontown Member Mailer.
All participants who enter using the Toontown Member Mailer (following the directions there and including your artwork within the envelope) will receive three trading cards for entering and a letter from the Toon Council.
Each entry can contain up to three ideas, each with a drawing and description to go with it. We'll do our best to make your idea spring to life if you win!
All entries should be submitted or mailed by Monday, July 27th. Winning entries will be announced during the countdown to ToonFest between August 20th and September 19th.
So what are you waiting for? Get those creative juices flowing! We're eager to see your ideas, and we can't wait for ToonFest! Our team is hard at work on preparing it for you along with plenty of other goodies.
Remember: Both a design idea and a description must be submitted either physically or electronically. Don't forget any descriptions, and make sure to mail them on time! Have fun!
---
Comments
Sorry! Comments are closed.
---
---
---
---
---
---
---
---
---
---
---
---
---
---
---
---
---
---
---
---
---
---
---
---
---
---
---
---
---
---
---
---
---
---
---
---
---
---
---
---
---
---
---
---
---
---
---
---
---
---
---
---
---
---
---
---
---
---
---
---
---
---
---
---
---
---
---
---
---
---
---
---
---
---
---
---
---
---
---
---
---
---
---
---
---
---
---
---
---
---
---
---
---
---
---
---
---
---
---
---
---
---
---
---
---
---
---
---
---
---
---
---
---
---
---
---
---
---
---
---
---
---
---
---
---
---
---
---
---
---
---
---
---
---
---
---
---
---
---
---
---
---
---
---
---
---
---
---
---
---
---
---
---
---
---
---
---
---
---
---
---
---
---
---
---
---
---
---
---
---
---
---
---
---
---
---
---
---
---
---
---
---
---
---
---
---
Back To Top