More News
Toontown is Greatly Growing!
Posted by Flippy on July 22, 2015 at 12:00 PM
You know that the silliest of summers is upon us when Toontown's population has already burst -- and is continuing to greatly grow! Just this week, we've recorded a count of
over 5,000 Toons
online!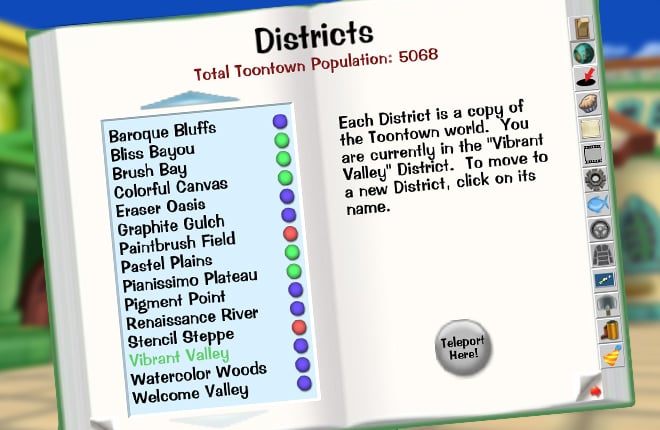 My pal over in the "Countless Counts of Counting" department is expecting this number to grow as summer moves on, and of course our Toon Troopers are working on quite a few little doohickeys that will knock your socks off when they arrive.
With ToonFest being constructed from the ground up with all new gameplay, along with this month's upcoming mission to
Storm Sellbot Headquarters
with Lord Lowden Clear, there has never been a better time to invite a friend to hop into Toontown and take a tour of the place. Who knows, maybe they'll stick around!
In the meantime, I'd buy a new pair of socks if I were you. Say, invite your friends to go sock shopping too. Toontown's summer fun is only just beginning!
---
Comments
Sorry! Comments are closed.
---
---
---
---
---
---
---
---
---
---
---
---
---
---
---
---
---
---
---
---
---
---
---
---
---
---
---
---
---
---
---
---
---
---
---
---
---
---
---
---
---
---
---
---
---
---
---
---
---
---
---
---
---
---
---
---
---
---
---
---
---
---
---
---
---
---
---
---
---
---
---
---
---
---
---
---
---
---
---
---
---
---
---
---
---
---
---
---
---
---
---
---
---
---
---
---
---
---
---
---
---
---
---
---
---
---
---
---
---
---
---
---
---
---
---
---
---
---
---
---
---
---
---
---
---
---
---
---
---
---
---
---
---
---
---
---
---
---
---
---
---
---
---
---
---
---
---
---
---
---
---
---
---
---
---
---
Back To Top