More News
Storm Sellbot HQ: Clear the Courtyard!
Posted by Resistance Ranger Rocky on July 31, 2015 at 3:00 PM
It's finally time -- Operation: Storm Sellbot Headquarters is now IN ACTION! Lowden gave you the
mission briefing
last week, but as expected, the Cogs caught wind of our plan as well and have already sent out their defenses. Luckily, we planned for this with
Phase One: CLEAR THE COURTYARD!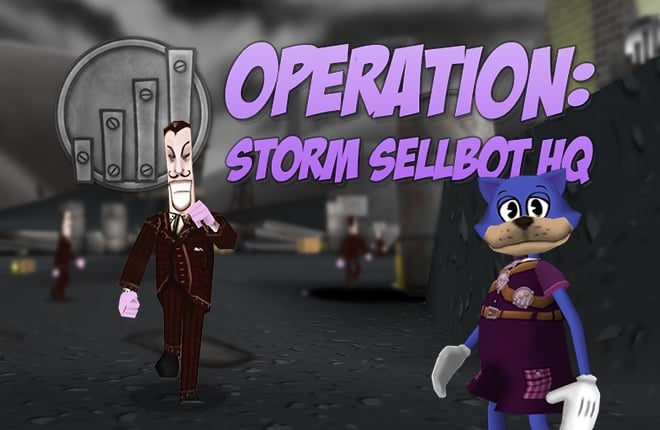 Now
HOOOOOOLD
your horses if you were wanting to get in and fight the Vice President right away. We aren't ready yet! Allow me to introduce myself: The name's Rocky, a Resistance Ranger stationed at our Outpost in Sellbot Headquarters. With the Cogs knowing our plans, our Operation is getting a whole lot more complicated.
The Vice President sure doesn't want anyone ruining his marketing strategy, which is why he sent out a
Mover and Shaker Mega-Invasion
into Toontown. Some of those Cogs are even
Version 2.0
! If we can't take those baddies down, there's no way we can get into that courtyard.
Grab some gags and head over to the headquarters: We'll be there as soon as we can get an opening in the waves of invasions! For those of you who still need time to clear your ToonTasks, make sure to do so.
Phase One of Storm Sellbot Headquarters is in action, but the real fun arrives once we clear out this invasion. Prepare yourself for new SOS Cards, ToonTasks, items, and more as we get ready for the next phase -- and trust me, it'll be worth the short wait. We're in the calm before the STORM!
---
Comments
Sorry! Comments are closed.
---
---
---
---
---
---
---
---
---
---
---
---
---
---
---
---
---
---
---
---
---
---
---
---
---
---
---
---
---
---
---
---
---
---
---
---
---
---
---
---
---
---
---
---
---
---
---
---
---
---
---
---
---
---
---
---
---
---
---
---
---
---
---
---
---
---
---
---
---
---
---
---
---
---
---
---
---
---
---
---
---
---
---
---
---
---
---
---
Back To Top