More News
Prepare for Operation: Storm Sellbot Headquarters
Posted by Lord Lowden Clear on July 24, 2015 at 2:00 PM
Lord Lowden Clear, leader of the Toon Resistance, here to clue you in on our latest scheme. The war on work versus play has raged on for over a year now in our fair town, and it sure isn't going to stop anytime soon. Our Toon Resistance Rangers have been collecting information for weeks, but their plan will only work with numbers on our side. That's where you come in.
Goofballs and silligicians, get ready for our biggest move against the Cogs yet: Operation: Storm Sellbot Headquarters.
Join the Battle Against the Boss!
As shown in my latest Toon Resistance trainee footage, we've managed to put together a four part plan in collaboration with Loony Labs to take advantage of the Sellbot Vice President's weak security. He'll certainly be paying for not keeping it in line!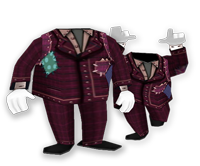 After our rangers collected piles and piles of disguise parts, the scientists of Loony Labs were able to make use of old prototype Cog Disguise designs to create an optimized, almost state-of-the-art "Rental Suit" for Toons without Cog Disguises to wear.
That means that even if you don't have your Cog Disguise yet, you can run into Sellbot Headquarters to assist in taking down the V.P.! Our Resistance Rangers also managed to slow down factory production, which has resulted in much lower Cog levels available in the boss' battle arsenal.
Introducing Toon Resistance ToonTasks!
For this operation to succeed, we're going to need lots of help on our missions. We've managed to secure a Toon Resistance Outpost right in the heart of Sellbot Headquarters, where you'll find myself and my comrades readily available to give you your next assignment against the Cogs.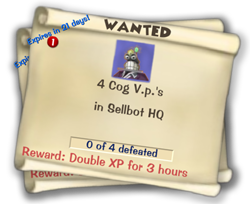 These special ToonTasks will give unique rewards such as Merits, Double Experience, Cog Disguise parts, and SOS cards in addition to several special keepsakes for those that go above and beyond the call of wacky.
Not only do we need these tasks to be completed, but we need them completed quick! These ToonTasks will expire as soon as our operation has ended, and no reward will be given.
The Toon Resistance needs YOU!
We've set our sights to put a huge damper in the Sellbot's progress, and you Toons are the perfect ones to do it. Whether you are a high-laff veteran or a new Toon in town, team up with your friends to help us Storm Sellbot Headquarters!
Operation: Storm Sellbot Headquarters will begin on July 31st and last until August 14th. That gives you a week to clear out your ToonTasks, stock up on gags, and prepare your team to infiltrate the tower. We're counting on you, Toons, now more than ever. I'll see you at The Storm.
Lord Lowden Clear
Leader of the Toon Resistance
---
Comments
Sorry! Comments are closed.
---
---
---
---
---
---
---
---
---
---
---
---
---
---
---
---
---
---
---
---
---
---
---
---
---
---
---
---
---
---
---
---
---
---
---
---
---
---
---
---
---
---
---
---
---
---
---
---
---
---
---
---
---
---
---
---
---
---
---
---
---
---
---
---
---
---
---
---
---
---
---
---
---
---
---
---
---
---
---
---
---
---
---
---
---
---
---
---
---
---
---
---
---
---
---
---
---
---
---
---
---
---
---
---
---
---
---
---
---
---
---
---
---
---
---
---
---
---
---
---
---
---
---
---
---
---
---
---
---
---
---
---
---
---
---
---
---
---
---
---
---
---
---
---
---
---
---
---
---
---
---
---
---
---
---
---
---
---
---
---
---
---
---
---
---
---
---
---
---
---
---
---
---
---
---
---
---
---
---
---
---
---
---
---
---
---
---
---
---
---
---
---
---
---
---
---
---
---
---
---
---
---
---
---
---
---
---
---
---
---
---
---
---
---
---
---
---
---
---
---
---
---
---
---
---
---
---
---
---
---
---
---
---
---
---
---
---
---
---
---
---
---
---
---
---
---
---
---
---
---
---
---
---
---
---
---
---
---
---
---
---
---
---
---
---
---
---
---
---
---
---
---
---
---
---
---
---
Back To Top