More News
Introducing Toontown Member Mailers!
Posted by The Toontown Team on July 6, 2015 at 12:00 PM
Ever wanted to get your hands on real world, "out-of-Tooniverse" Toontown merchandise, such as those sweet trading cards given out at ToonFest? Any member of Toontown Online remembers the trading cards that Toons would receive in the mail - and we're bringing them back for FREE!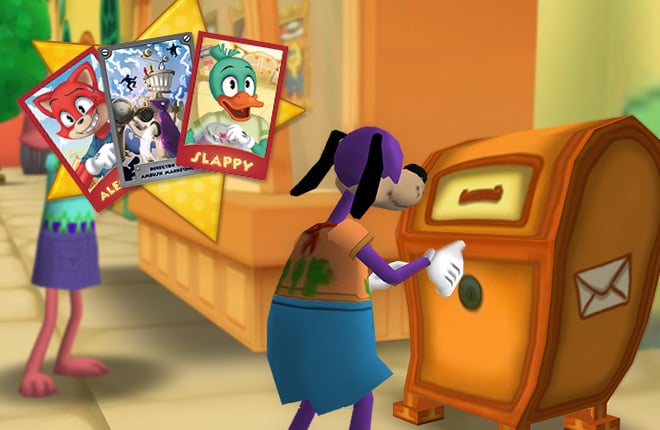 Getting a Toontown Member Mailer is simple -- it's our solution to give those neat looking Trading Cards to all members of Toontown, and you can participate from
almost anywhere
in the world!
Learn how to get YOUR Toontown Member Mailer!
It's easy as a slice of pie to do, and we'll be doing it much more in the future as more trading cards and other cool mailing items are released while supplies last - you'll want to collect them all!
When mailing your first envelope, feel free to include your own letter to us or some fanart with it. You may see it end up on our website! In fact, if you wait just a few days - you'll be hearing some news about how we'll be using these mailers for fun events.
You can learn more about the Toontown Member Mailer program over on our
Help Page
, and
don't forget to ask a parent before participating.
Enjoy!
---
Comments
Sorry! Comments are closed.
---
---
---
---
---
---
---
---
---
---
---
---
---
---
---
---
---
---
---
---
---
---
---
---
---
---
---
---
---
---
---
---
---
---
---
---
---
---
---
---
---
---
---
---
---
---
---
---
---
---
---
---
---
---
---
---
---
---
---
---
---
---
---
---
---
---
---
---
---
---
---
---
---
---
---
---
---
---
---
---
---
---
---
---
---
---
---
---
---
---
---
---
---
---
---
---
---
---
---
---
---
---
---
---
---
---
---
---
---
---
---
---
---
---
---
---
---
---
---
---
---
---
---
---
---
---
---
---
---
---
---
---
---
---
---
---
---
---
---
---
---
---
---
---
---
---
---
---
---
---
---
---
---
---
---
---
---
---
---
---
---
---
---
---
---
---
---
---
---
---
---
---
---
Back To Top