More News
Christmas in July
Posted by Shockley on July 17, 2015 at 9:00 AM
Happy Holidays, Toons! I don't want to
ho-ho-hold
you up for long, but the newest addition that us Toon Troopers have to share with you is certainly something to share with others -- and for them to share with you, too! 'Tis the season for giving, and now you can make use of
gifting
in Clarabelle's Cattlelog.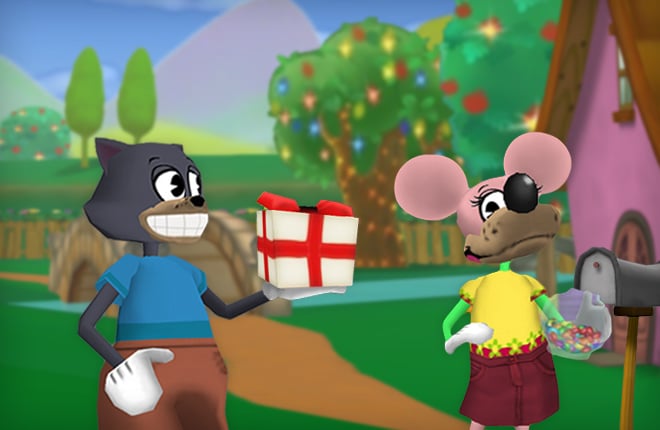 Among all of the smaller bells and whistles that arrive to Toontown, one of the most frequently suggested ones has been gifting. Who can blame them, either? It's a great way to be gracious! I've been handing out gifts to all of my friends, and all it took was an extra stamp on the box.
In addition to gifting, many new animations are now available to Toons who have been in town for a while -- check out the "Special" section of your Cattlelog to see! We know you've wanted those for quite some time, and we'll be doing even more with them in the future.
Merry Christmas in July, Toons -- remember to keep on gifting and giving!
July 15, 2015 [ttr-beta-v1.9.8]
Features:
• Gifting has arrived! Toons are now able to send Toontastic gifts from their Cattlelog to others on their friends list.
• Loyalty items in the back of your Cattlelog are now able to be purchased by Toons who have shown their Toontown spirit long enough! Some Toons may experience "weird" timings until they receive their next cattlelog.
• The district "Pianissimo Plains" was renamed to "Pianissimo Plateau", and "Easel Acres" was renamed to "Avant Gardens".

Maintenance:
• Fixed a bug where Laff Meters would remain above your head after going Sad in a CEO Battle.
• Fixed treasure models loading incorrectly in the CFO Battle.
• Fixed various visual glitches around town, including flicking door textures.
• Updated our engine to its latest version.
• Fixed a crash relating to the Acorn Acres picnic tables.
• Fixed a few dialogue typos.
• Various chat moderation improvements.

---
Comments
Sorry! Comments are closed.
---
---
---
---
---
---
---
---
---
---
---
---
---
---
---
---
---
---
---
---
---
---
---
---
---
---
---
---
---
---
---
---
---
---
---
---
---
---
---
---
---
---
---
---
---
---
---
---
---
---
---
---
---
---
---
---
---
---
---
---
---
---
---
---
---
---
---
---
---
---
---
---
---
---
---
---
---
---
---
---
---
---
---
---
---
---
---
---
---
---
---
---
---
---
---
---
---
---
---
---
---
---
---
---
---
---
---
---
---
---
---
---
---
---
---
---
---
---
---
---
---
---
---
---
---
---
---
---
---
---
Back To Top