More News
Storm Sellbot HQ: Recover Your Rental Suit!
Posted by Loopy Loopenloop on August 2, 2015 at 6:00 PM
Loopy Loopenloop's the name! -- "Loopy", to you.
Your Cog-busting dreams are soon to come true!
As one of the many Resistance Rangers, I can tell you no lies.
So it's time for
Phase Three: Pick up your RENTAL DISGUISE!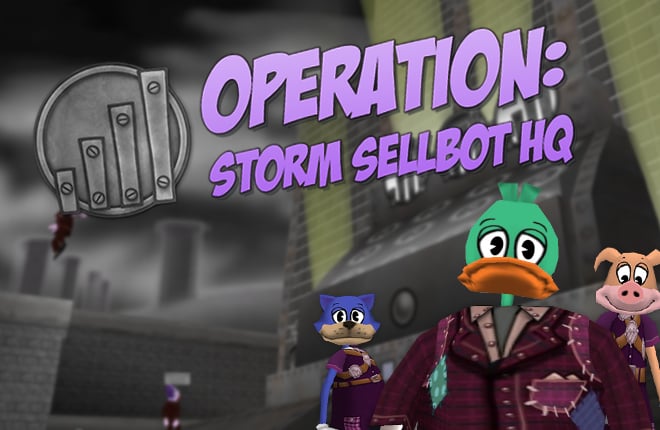 Toons can enter high and low, maxed to fifteen,
The Vice President's tower, on which he'll surely scream.
Regardless of parts, promotion, merits, or gag:
You can enter Sellbot Towers, but try not to lag!
Be kind to Toons in there, especially those who rhyme.
Once you get missions from me, you'll hear it all the time!
For defeating the Cogs, and helping the "Rents",
I'll give experience rewards to all of you 'Gents!
We're almost ready! The Rangers will be there soon,
In the meantime, have fun defeating that big ol' goon.
Get yourselves ready, prepare what's in store,
Everything you've wanted and more will arrive with
Phase Four!
Hopefully, I haven't thrown you for too much of a loop...
At least I'm not as crazy as some of the Toon Troop!
August 2, 2015 [ttr-beta-v1.9.10]
Features:
• Toon Resistance gag barrels in Sellbot Headquarters are now active. No need to run back to the playground during the operation!
• Rental Suits are now available. Enter the entrance to Sellbot Towers and fight the VP, even if you're a newbie!
• The Vice President is running low on Cogs for his fleet. Defeating him is easier than ever!

---
Comments
Sorry! Comments are closed.
---
---
---
---
---
---
---
---
---
---
---
---
---
---
---
---
---
---
---
---
---
---
---
---
---
---
---
---
---
---
---
---
---
---
---
---
---
---
---
---
---
---
---
---
---
---
---
---
---
---
---
---
---
---
---
---
---
---
---
---
---
---
---
---
---
---
---
---
---
---
---
---
---
---
---
---
---
---
---
---
---
---
---
---
---
---
---
---
---
---
---
---
---
---
---
---
---
---
---
---
---
---
---
---
---
---
---
---
---
---
---
---
---
---
---
---
---
---
---
---
---
Back To Top