More News
Storm Sellbot HQ: Extend the Operation!
Posted by Flippy on August 19, 2015 at 4:00 PM
Operation: Storm Sellbot HQ has been a HUGE success! With thousands of Cogs defeated, and dare I say
millions
of pies thrown, there isn't any doubt from any of the Toons in town that those Sellbots have taken a beating. With that said, there's only one thing left to do: Integrate
Phase FIVE: Extend the Operation!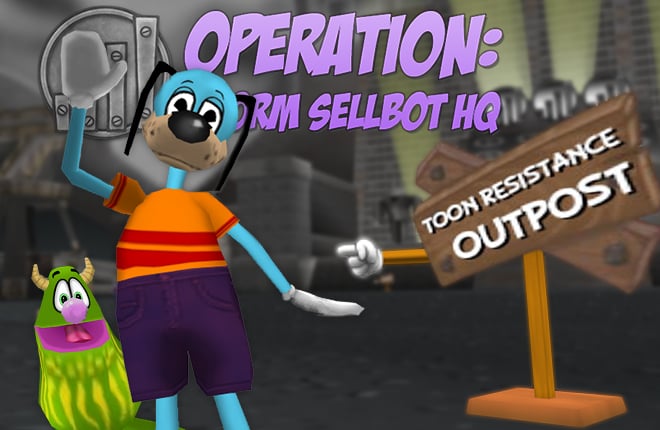 Lord Lowden Clear and all of his crew are offering
brand-new missions
for you to complete up until midnight on
August 30th
, when the Resistance will pack up their supplies and Operation: Storm Sellbot HQ will end.
You won't want to miss out on the limited-time SOS cards and unique rewards that they have to give you -- and I even have a little bit of a "mission" for you myself! Somewhere along the way, Fluffy's collar was lost in Sellbot HQ...
(He's my "Doodle" -- I found him at ToonFest last year!)
But we'll discuss those details later.
In the meantime, go visit Lowden -- the Storm is raging on, and we're not done yet!
August 21, 2015 [ttr-beta-v1.9.15]
Bugfixes:
• Add missing dialogue to the end of Lord Lowden Clear's second Storm Sellbot ToonTask.

Tweaks:
• Storm Sellbot ToonTasks can now be deleted.
• Storm Sellbot has been extended until August 30th!
• Add "That's not very Toony!" SpeedChat phrase.
• After defeating a VP in Storm Sellbot, you'll now be taken back to Sellbot HQ's Resistance Outpost.

Features:
• Five new ToonTasks have been added to Storm Sellbot -- one from each of the Resistance Rangers, and two from Lord Lowden Clear. Go see the new rewards, including Level 7 SOS cards!

---
Comments
Sorry! Comments are closed.
---
---
---
---
---
---
---
---
---
---
---
---
---
---
---
---
---
---
---
---
---
---
---
---
---
---
---
---
---
---
---
---
---
---
---
---
---
---
---
---
---
---
---
---
---
---
---
---
---
---
---
---
---
---
---
---
---
---
---
---
---
---
---
---
---
---
---
---
---
---
---
---
---
---
---
---
---
---
---
---
---
---
---
---
---
---
---
---
---
---
---
---
---
---
---
---
---
---
---
---
---
---
---
---
---
Back To Top