More News
Backstage: Touching Up Toontown
Posted by The Toontown Team on September 4, 2016 at 2:00 PM
Hello, Toons of the world! It's Kyla here, also known as "Cheesy" or "Beary Funny" inside the Tooniverse, ready to bring you an update on some of our most anticipated projects!
Myself and another fellow team member, Mike ("Lost Hero"), are two of the many texture artists on the Toontown Rewritten team. We've worked on a lot of things in the past year, and today we're ready to share all about how we've been...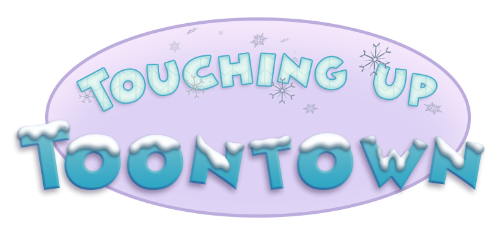 Reviving Retextured
Before we show off our work, let me just backtrack a few steps: Have you ever heard of
Toontown Retextured
? Just in case you haven't heard, Toontown Retextured is a project where we completely "Toon-Up" the original Toontown graphics making them all sharp and sparking. Our aim is to create new textures that fit the high quality standards of modern-day games while still keeping the original look of Toontown. Yep, we bring out our magnifying glasses and pick out every mistake to ensure our versions are as accurate as they can be!
In order to ensure all our textures are as accurate as possible, there's a highly intensive critique process to make sure everything looks like it came straight from Disney. After sharing our textures with the rest of the art team, everyone puts in their say about what looks right, what doesn't, and what little details could be added. Like they say, four eyes are better than two! Err... Six eyes are better than four? Bah, never mind.
An average texture undergoes revisions about three times before being passed on to another artist, who can continue with the critiques until we all agree on an outcome. It's a lengthy process, but thanks to the careful eyes of our artists, we've been able to make the game look as if it was created today, rather than over
13 years
ago.
The Beautiful Brrrgh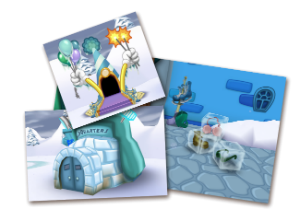 If you attended OMG!Con or checked out our panels, you got the chance to see The Brrrgh like no one has ever seen before in wonderful high definition. Mike and I were the main artists who contributed to this particular playground, and we got one of our fellow art team members, Ziggy, to put a little video together for you to see with your own eyes how much the difference between old and new can be. Check it out!
A New Piece to the Project
But wait a minute, that's not all we have for you. I'm here to announce another part of our Toontown Retextured project! Have you seen those cardboard cutouts of lamps and other props scattered around Toontown? They were added a long time ago due to the lack of beans
(and processing power)
to use real looking ones.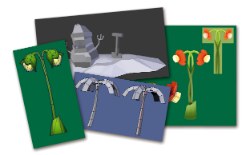 In this day and age, however, using 2D images to represent a 3D object just doesn't happen thanks to how much better our computers have become. And because of this,
we're going to be working to replace many of these 2D objects with 3D versions
to make Toontown look even better than ever before.
Jordan ("Capn' McCrunchy") and Justin ("Captain Lollipop"), two of our talented new 3D artists, have been hard at work on this. It's no simple task, either! Just like the texture artists, they undergo several critiques where every polygon is examined to make sure it's completely accurate to the original look of the game.
The 3D modelers have it tough, though. They don't have enough information to create a new object from! Looking at real world designs and other external resources are important, but they also get to incorporate their own vision of how it would look from all angles. Just because it looks pretty in one direction doesn't always mean it will in another!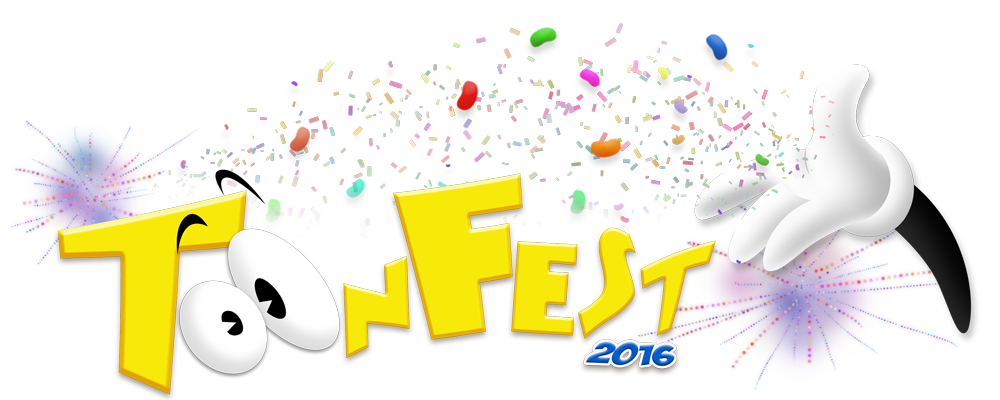 Although Toontown Retextured will be an optional update (You can keep using the "classic" graphics if you so wish!) we want to ensure that what we put out is nothing less than what the original developers would have created themselves. There's no estimated date for this very large project to be released, but we'll always keep you updated right here on the blog when we have new news to share.
Whew! Have I really been talking for that long? Golly, I should really wrap it up! I hope you all enjoyed having a glimpse into the work area of some of the artists on the team, and we hope to see you all at ToonFest!
---
Comments
Sorry! Comments are closed.
---
---
---
---
---
---
---
---
---
---
---
---
---
---
---
---
---
---
---
---
---
---
---
---
---
---
---
---
---
---
---
---
---
---
---
---
---
---
---
---
---
---
---
---
---
---
---
---
---
---
---
---
---
---
---
---
---
---
---
---
---
---
---
---
---
---
---
---
---
---
---
---
---
---
---
---
---
---
---
---
---
---
---
---
---
---
---
---
---
---
---
---
---
---
---
---
---
---
---
---
---
---
---
---
Back To Top