More News
Announcing ToonFest at ReplayFX 2017
Posted by The Toontown Team on March 19, 2017 at 12:00 PM
Imagine an event all about Toontown. An event full of games and prizes where you could meet players, developers, and hear about what's coming to Toontown before anyone else.
Are you interested yet?
That event exists, and this year it's bigger and better than ever. Today, we're officially announcing that, for the first time ever, ToonFest will be located at
ReplayFX 2017
in
Pittsburgh, Pennsylvania
!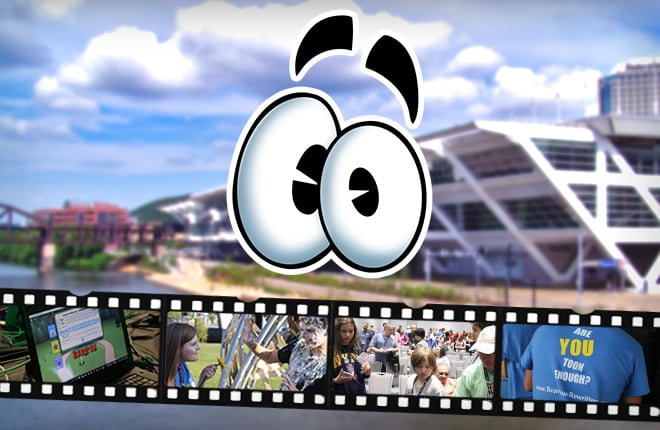 For the past two years, Toontown Rewritten has hosted an enormous event called ToonFest which attracts
hundreds
of Toontown players from all around the world! This event is normally held at OMG!Con in Owensboro, Kentucky, but this year we have something big in store.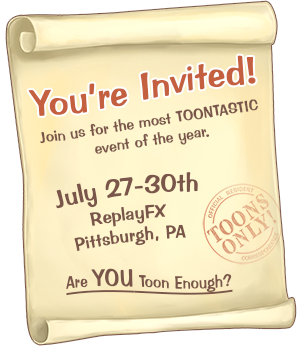 ReplayFX
is one of the largest gaming conventions on the East Coast, and we've been working with them over the past few months to plan the most exciting ToonFest yet.
We have a lot of announcements about the event that we're going to be making over the next few months, but in the meantime, here's what you need to know:
ReplayFX is a four day event from July 27-30th. (Thursday to Sunday)
Toontown Rewritten will be attending all four days with a big activity area, as well as two panels led by the development team on Friday and Saturday.
This event is a real-world celebration for Toontown's 14th anniversary. ToonFest 2017, the annual in-game celebration of Toontown Rewritten held in Acorn Acres, will still be hosted on September 19, 2017.
The event will be recorded and uploaded for those who are unable to attend, but you really won't want to miss it if you are able to be there in person!
Toontown Rewritten receives no profit or revenue from this event -- we're in it for the celebration of all things Toontown! Convention costs are being paid out of pocket by our loyal staff members.
In addition to the "TOONTASTIC" activities we have in store, ReplayFX has a show floor packed with over 200,000 square feet of games, activities, and entertainment for the whole family!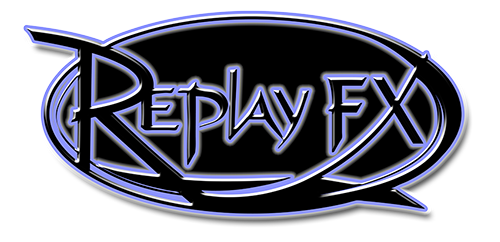 Full details on ticket prices are listed on the
ReplayFX website
. Discounted tickets are available for children under 12, and children under 5 can join the fun for FREE!
Thousands of people come to ReplayFX every year, which means you will want to get your tickets and hotel as soon as possible.

This year is shaping up to become Toontown's biggest year ever, and we anticipate that this event will be one of the highlights of the year. We can't wait for you to see what we have in store.
Ready to start planning your summer vacation? Join us for the most TOONTASTIC event of the year! Stay
TOON
ed for more information about the event in the coming weeks, and feel free to
email us
with questions.
We can't wait to see you at ToonFest!
Are YOU Toon Enough?
---
More Information (Updated):
Announcing ToonFest at ReplayFX 2017
---
Comments
Sorry! Comments are closed.
---
---
---
---
---
---
---
---
---
---
---
---
---
---
---
---
---
---
---
---
---
---
---
---
---
---
---
---
---
---
---
---
---
---
---
---
---
---
---
---
---
---
---
---
---
---
---
---
---
---
---
---
---
---
---
---
---
---
---
---
---
---
---
Back To Top