More News
The Search for the Silliness
Posted by Doctor Surlee on April 1, 2017 at 2:00 PM
Greetings, Toontown. My name is Doctor Surlee, some of you may know me. I am a scientist from Loony Labs who has been investigating the many anomalies in Toontown, and inventing in my spare time! You just took a step into the silliest week of Toontown, and this year I fear will be the silliest one yet. Welcome one and all to the wacky, weird, and wild
April Toons Week
!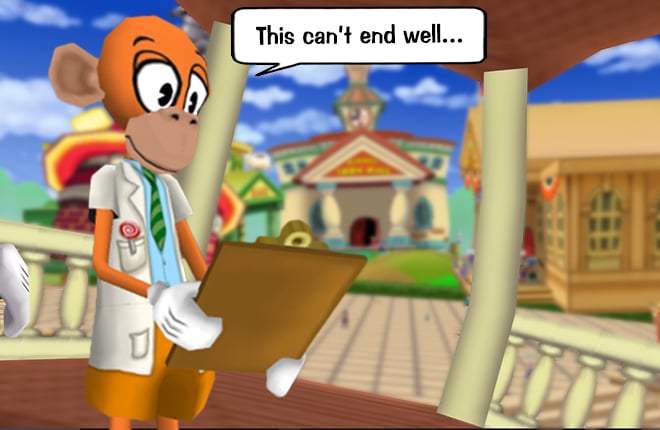 Every year on the first day of April, the silliness levels of Toontown rise to unimaginable levels. The pranks pulled cause things to go bananas, and while I may be a monkey -- those bananas are too crazy for me.
This year, however...
Something
is different. We've tied up Sir Max to make sure he couldn't do anything crazy
(He says hello! He's in my supply closet at the moment.)
, but the weirdness is still here! It's mind-boggling. If there is no joke, what could be causing this silliness?
I've listed my findings below of the wacky happenings around town.
Toon sounds have been jumbled!
As I write this post, I currently sound like a bunny. This disturbs me. Silly Particles are swapping between Toons and causing one to sound like the other.

Effects have gone haywire!
It's fun to change the size of your Toon with a ToonTask, but this is just out of hand. Toons are reporting all sorts of size changes due to the amount of laughs floating around town.

Gadzooks! The gravity is gone!
I was awoken this morning by my lab being ripped out of the ground by a wacky wave that affected the gravity. As you roam around Playgrounds, waves of wackiness will cause the gravity to go berserk. Hang onto something!

The S.I.L.L.I. Team is at it again!
To help detect these animated anomalies, the S.I.L.L.I. Team (Scientists Interested in Laugh Levels Increasing) have rented out the Pet Shop once again, and without me in the office they need some lab monkeys! If you didn't help him last year, Professor Prepostera is offering limited time ToonTasks this week to track down this silliness.

This silliness can't just be coming from thin air! But where is it coming from? WHO is it coming from? Toons, I need your help to figure this out. Personally, I suspect the mailboxes.
Something
is out there... And this silliness won't stop until we find whatever it is.
Grab your friends and start a search for the silliness!
April 1, 2017 [ttr-beta-v1.14.0]
Maintenance
• Major Maintenance Upgrade! The technical team has spent several months ripping out the old code and reworking our client and server build process. This is a major upgrade that streamlines the behind-the-scenes update process, and further stabilizes the game.
• Upgraded to the latest version of Panda3D and Astron.
• We're polishing the gears and cleaning up the old pie gunk! This update introduces various performance improvements, code cleanup, and stability enhancements.
• Improved detection and moderation of non-family friendly chat.

Bugfixes
• Fixed a number of memory leaks that hindered game performance over time.
• Fixed a bug that made doors sometimes difficult to enter.
• Prevented a method that allowed Toons to wear Cog disguises in Playground areas.
• Fixed a rare game crash in the C.F.O. boss battle.
• Golf balls now properly slow down the C.E.O. in the final round of the boss battle.
• Fixed a game crash when trying to fire a Cog before it has joined battle.
• Fixed a district crash when ordering items in the Cattlelog at a friend's Estate.

Tweaks
• Tweaked a number of models to reduce the amount of glitches caused by April Toons Week gravity changes.
• Improved appearance of buildings when floating in the air due to April Toons Week gravity changes.
• Adjusted the appearance of some of the winter clothing and accessory items.

Features
• APRIL FOOLS! It's the silliest week of the year, and Toontown has gone wild! Enjoy tons of craziness throughout the week.
• The Pet Shop is open once again! Loony Labs has set up shop inside and needs your help to figure out what's going on with Toontown's silliness.
• Gadzooks! The gravity in playgrounds is going berserk!
• Meow? Woof? Oink? Toon sounds and bodies are all jumbled up as a result of April Toons Week!
• With all of this craziness in Toontown, there's no telling what other surprises are in store...

---
Comments
Sorry! Comments are closed.
---
---
---
---
---
---
---
---
---
---
---
---
---
---
---
---
---
---
---
---
---
---
---
---
---
---
---
---
---
---
---
---
---
---
---
---
---
---
---
---
---
---
---
---
---
---
---
---
---
---
---
---
---
---
---
---
---
---
---
---
---
---
---
---
---
---
---
---
---
---
---
---
---
---
Back To Top