More News
Adopt a Doodle TODAY!
Posted by Flippy on April 10, 2017 at 6:40 PM
Toontown, I cannot thank you enough. Thanks to the valiant Toons who searched up, down, and around Toontown --
My pet Doodle, Fluffy, has been FOUND!
And that's not all... Boy, have I got a surprise for you.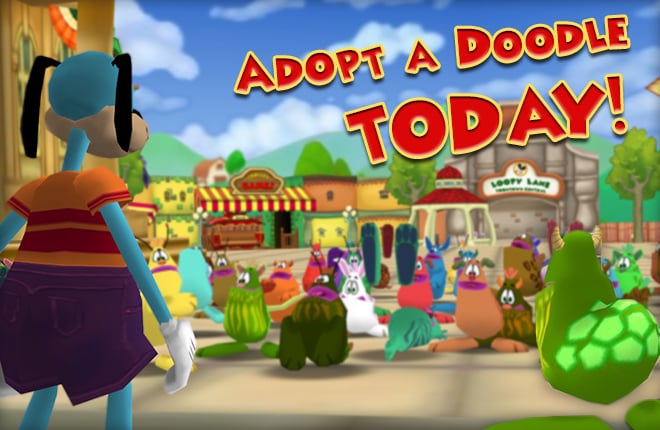 Just this morning, a couple of Toon Troopers managed to lure Fluffy to Toon Hall with a massive amount of jellybeans before he teleported away again. I knew I should have never given him my spare Portable Hole! Seeing my precious pet again was the most excited I've been since I first found the little guy at ToonFest!
The excitement didn't end there, however. April Toons Week has ended, but there was enough silliness in the air from our big
Doodle Hunt
that Fluffy was able to tell me about a land known as "Doodlevania", just off of the outskirts of where we built our ToonFest Grounds!
Doodlevania is where Fluffy came from, and he told me all about his friends there who love jellybeans and are very eager to join Fluffy with the Toons of Toontown. He's been wanting to tell me this for
MONTHS
, but April Toons Week was the only time he could talk! The poor guy even forgot where Toon Hall was after so long.
"Let's go, then!", I exclaimed to Fluffy after hearing about Doodlevania. I was ready to put a task force of Toon Troopers together to go find the rest of his Doodle friends, but upon walking out of Toon Hall... There was no need! The Doodles of Doodlevania followed Fluffy all the way to Toontown, and they're ALL in need of places to call home!
Toons, Fluffy's friends need our help! If the rest of the Doodles are anything like Fluffy, then I can assure you that a Doodle is a Toon's best friend. Starting
TODAY, the Pet Shops have opened and Doodles are up for adoption!
The younger Doodles can be found in Toontown Central, who may have a hard time learning tricks, but they're still as cute as a button. Higher level Playgrounds have the Doodles who have already learned how to be silly and can learn how to do tricks much more quickly! They'll require a higher cost of jellybeans to take care of, however.
There you have it, Toons. Doodles are officially joining Toontown, and they're here to stay! Talk about an exciting day in Toon History.
Now, what are you waiting for? Go out and adopt a Doodle
TODAY!
April 10, 2017 [ttr-beta-v1.15.0]
Features:
• Doodles have arrived, and they're here to stay! Adopt a Doodle TODAY at your local Pet Shop.

Maintenance:
• Doodles have received many performance and maintenance improvements compared to their state in Toontown Online!
• Massively rewrote Doodle movement in order to prevent server lag in popular districts.

Bugfixes:
• Fixed a visual bug on The Brrrgh's Toon HQ.
• Fixed positioning of the telescope on the Donald's Dreamland Toon HQ.
• Objects in Donald's Dreamland no longer clip with the sky when being viewed from far away.

---
Comments
Sorry! Comments are closed.
---
---
---
---
---
---
---
---
---
---
---
---
---
---
---
---
---
---
---
---
---
---
---
---
---
---
---
---
---
---
---
---
---
---
---
---
---
---
---
---
---
---
---
---
---
---
---
---
---
---
---
---
---
---
---
---
---
---
---
---
---
---
---
---
---
---
---
---
---
---
---
---
---
---
---
---
---
---
---
---
---
---
---
---
---
---
---
---
---
---
---
---
---
---
---
---
---
---
---
---
---
---
---
---
---
---
---
---
---
---
---
---
---
---
---
---
---
---
---
---
---
---
---
---
---
---
---
---
---
---
---
---
---
---
---
---
---
---
---
---
---
---
---
---
---
---
---
---
---
---
---
---
---
---
---
---
---
---
---
---
---
---
---
---
---
---
---
---
---
---
---
---
---
---
---
---
---
---
---
---
---
---
---
---
---
---
---
---
---
---
---
---
---
---
---
---
---
---
---
---
---
---
---
---
---
---
---
---
---
---
---
---
---
---
---
---
---
---
---
---
---
---
---
---
---
---
---
---
---
---
---
---
---
---
---
---
---
---
---
---
---
---
---
---
---
---
---
---
---
---
---
---
---
---
---
---
---
---
Back To Top