More News
How Sir Max Stole Christmas
Posted by Sir Max on December 23, 2015 at 2:00 PM
On the ninth day of winter, Toontown gives to you:
Cheerful Christmas costumes,
A VERY big blizzard,
Twice the gag experience,
Wacky winter carols,
AND A MEGAAAAAA COG INVASION!
(bum bum bum...)
A Cattlelog full of clothing,

Brand new decorations,
Trees and lights o'plenty,
And a holiday packed with very merry news!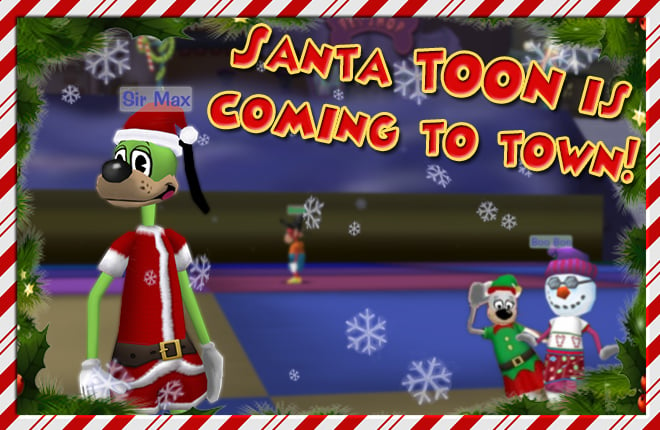 Contrary to the title, I can assure you that there's no Christmas stealing going on around here!
(Hawkheart, they're onto us. Take off those reindeer antlers!)
Since Flippy has been so busy, however, I've taken it upon myself to fill in for him. You know what that means: I get to wear the Santa outfit this year!
Last year Flippy had the big man's hat while I got stuck with the elf outfit. Don't get me wrong, green is a pretty swanky color, but I'm more of a Santa hat kind of guy. Would you say that your taste in Christmas colors is more Elvishly green, or Santastically red? Luckily, you get to pick for yourself with
two exclusive Christmas costumes!
From now until the end of the 12 Days of Winter, you can type "
coming-to-town
" in your Shtickerbook for a bright red Santa outfit, or "
on-the-shelf
" for a whimsical little elf outfit. Even if you already have the costumes from last year, you'll want to use the codes again since we've thrown some matching shoes into the mix!
By the way -- While you're getting all of these great gifts from the Toon Council, don't forget to send some gifts of your own to your friends!
---
Comments
Sorry! Comments are closed.
---
---
---
---
---
---
---
---
---
---
---
---
---
---
---
---
---
---
---
---
---
---
---
---
---
---
---
---
---
---
---
---
---
---
---
---
---
---
---
---
---
---
---
---
---
---
---
---
---
---
---
---
---
---
---
---
---
---
---
---
---
---
---
---
---
---
---
---
---
---
---
---
---
---
---
---
---
---
---
---
---
---
---
---
---
---
---
---
---
---
---
---
Back To Top