More News
Deck the Halls, Trees, and Trolley
Posted by Hawkheart on December 16, 2015 at 2:00 PM
On the second day of winter, Toontown gives to you:
Trees and lights o'plenty,
And a holiday packed with very merry news!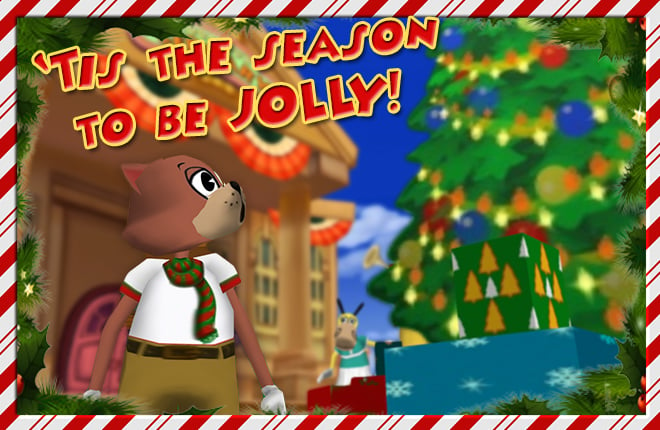 You can breathe a sigh of relief, everyone, because unlike year's past -- I think I've finally been put in charge of putting up the
decorations around Toontown!
We have a lot of new things to come, but first, we need to start with the basics of Christmas cheer.
After the
Great Blizzard of '02
and last year's
Tree Chopping Fiasco
, I decided to apply for the position as exterior decorator to replace Sir Max this year. In fact, I should be hearing back any minute!
Frankly, I think I'm a shoo-in! The last thing we all need is another stolen tree or angered blizzard wizard. I'm sure he'll find a way to cause just as much trouble either way, though...
Whew. It's not nearly as easy as you think to apply for the official Christmas decorator. I wrote an entire essay on the history of light bulbs, tracing right back to when Edison invented them in 1879 as a way of signalling Santa on the night of Christmas eve.
[citation needed]
And boy, let me tell you, with joyful and triumphant decorations -- Oh! I just got a letter from the Toon Council! Let's see...
"Thank you for applying, yada yada yada, the role of Holiday Decorator is of the utmost honor, et cetera and so forth, and that's why we're proudly bestowing the job upon... SIR MAX?"
But... But... Did he even submit an application? My essay was 14 pages long! I hate to disturb Flippy while he's out searching, but who on earth approved this? Wait -- what's that noise? I hear something outside...
Oh no.
Not again.
"TIMMMMMBERRRRR!"
---
Comments
Sorry! Comments are closed.
---
---
---
---
---
---
---
---
---
---
---
---
---
---
---
---
---
---
---
---
---
---
---
---
---
---
---
---
---
---
---
---
---
---
---
---
---
---
---
---
---
---
---
---
---
---
---
---
---
---
---
---
---
---
---
---
---
---
---
---
---
---
---
---
---
---
---
---
Back To Top