More News
Toontown's Twelve Days of Winter is Back!
Posted by Sir Max on December 15, 2015 at 2:15 PM
On the first day of winter, Toontown gives to you:
A holiday packed with very merry news!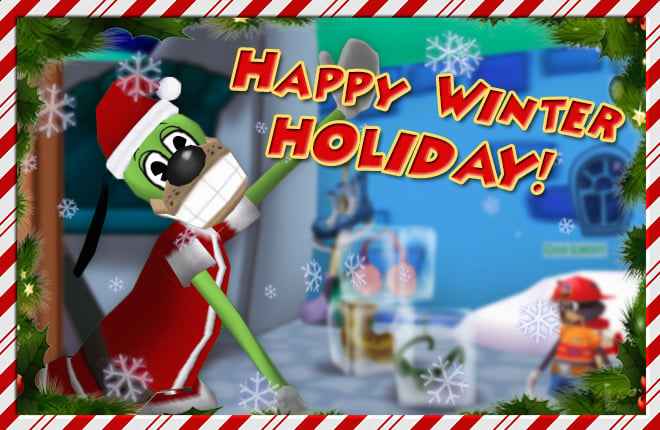 One of the best parts about the Christmas season are those traditions that seem to creep back up every year, sometimes enough to drive you INSANE! The
Twelve Days of Winter
is one of those traditions here at Toontown, and it's making a return this year to bring even more exciting things to make things merry and bright.
I hope you aren't one of those people who can't stand carols, because for the next 12 days,
December 15th to 26th
, we're going to be rocking around the Christmas tree with an exciting Winter Holiday event
every day!
Trust me, you'll want your bean banks ready and your stockings ready to be stuffed.
No matter what, where, or how you celebrate, let me be first to tell you on behalf of the Toon Council: Merry Christmas, Happy Hanukkah, Happy Kwanzaa, and
Have a Toontastic Winter Holiday!
---
Comments
Sorry! Comments are closed.
---
---
---
---
---
---
---
---
---
---
---
---
---
---
---
---
---
---
---
---
---
---
---
---
---
---
---
---
---
---
---
---
---
---
---
---
---
---
---
---
---
---
---
---
---
---
---
---
---
---
---
---
---
---
---
---
---
---
---
---
---
---
---
---
---
---
---
---
---
---
---
---
---
---
---
---
---
---
---
---
---
---
---
---
---
---
---
---
---
---
---
---
---
---
---
---
---
---
---
---
---
---
---
---
---
---
---
---
---
---
---
---
---
---
---
---
---
---
---
---
---
---
---
---
---
---
---
---
---
---
---
---
---
---
---
---
---
---
---
---
---
---
---
---
---
---
---
---
Back To Top