More News
Get out There and GOLF!
Posted by McQuack on December 7, 2015 at 3:00 PM
What's this? OH! Hello! Hi. Um. Hello! No - already said that. Hi. Hrm. Off to a bad start. Okay, hi there! Sir Max is out sick, so it um... It's up to me to write the post here. Okay! Let's get going. Golf. You like it, I like it, and
today we're releasing it.
Bam, I already used the bold!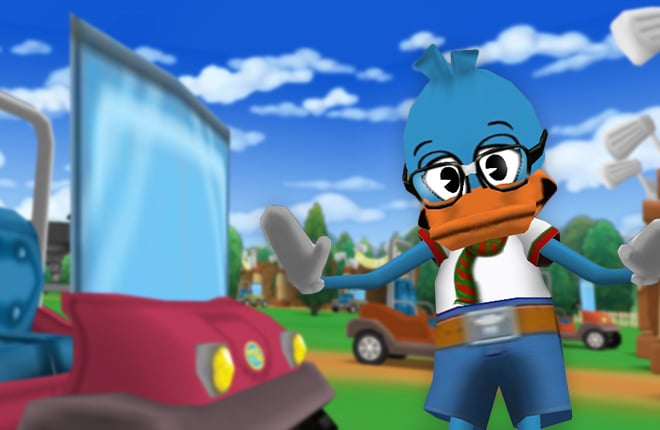 So here's the thing, I've actually very rarely done this whole blog posting thing before. In fact, security stopped me twice on the way in. Said they didn't recognize me. I just told them I'm the Toon Trooper that Sir Max always blows up, and there I was! Sent straight in!
Now, uh, there's a manual here. So that should help. Let's see, table of contents... Ah! Here we are.
"New Expansions - Page 47."
It says... Now hang on, is golfing considered an "Original Expansion"? What does original expansion even mean? Oh wait! It says here.
"Consult Doctor Surlee or see page 26 to locate original expansions."
Huh.
Okay, you know what, I'm just going to roll with it here. Do you all see any -- oh, wait, found it!
BULLET POINTS!
Golfing comes out today.
Because golfing comes out today, you can now reach 136 total Laff points! That's three more than before!
All Toons can now access the area over in Chip 'n Dale's MiniGolf! For every 10 trophies you earn, you get a laff boost. (Well that seems like this bullet point alone could have wiped out the last two. A bit redundant I'd say.)
Jam-packed multiplayer action! Up to four Toons can board a golf kart to play with their friends. (You know I'd hardly call MiniGolf action, but I suppose it is rather fun.)
What -- hold on, the manual says I should stop putting comments within my bullet points. Err. Whoops. I am supposed to come up with some kind of sign off now -- "Signoffs - Page 568"
You know, I've spent the whole day putting this golf course together, so I'd say its high time we just go out there and golf. Can you all agree? Okay, I think we're all in agreement. So what are you waiting for?
Let's get out there and GOLF!
"Release Notes - Page 2"... Press red button next to --
oh, here it is!
December 7, 2015 [ttr-beta-v1.11.0]
Features:
• Chip 'n Dale's MiniGolf is open to all!
• The new Laff point limit is 136.
• Added a new "Name Rewrite" item to the special area of Clarabelle's Cattlelog. Toons can now rename themselves -- but only once per year. It's better to stick with your own name, after all! (Note: You'll have to wait until your next Cattlelog before you see this item in the Special tab.)

Bugfixes:
• Fixed a district reset caused by exiting the Mint during an obstacle course.
• Fixed an issue with players being unable to enter the maze games in the Bossbot Cog Golf Courses.
• Fixed sound volume scaling on certain objects such as the Cashbot trains and Toon sound effects.

Maintenance:
• Various code cleanup and tool enhancements.

---
Comments
Sorry! Comments are closed.
---
---
---
---
---
---
---
---
---
---
---
---
---
---
---
---
---
---
---
---
---
---
---
---
---
---
---
---
---
---
---
---
---
---
---
---
---
---
---
---
---
---
---
---
---
---
---
---
---
---
---
---
---
---
---
---
---
---
---
---
---
---
---
---
---
---
---
---
---
---
---
---
---
---
---
---
---
---
---
---
---
---
---
---
---
---
---
---
---
---
---
---
---
---
---
Back To Top