More News
Rudolph the Red-Nosed Opera Singer
Posted by Clerk Clara on December 17, 2015 at 2:00 PM
On the third day of winter, Toontown gives to you:
Brand new decorations,
Trees and lights o'plenty,
And a holiday packed with very merry news!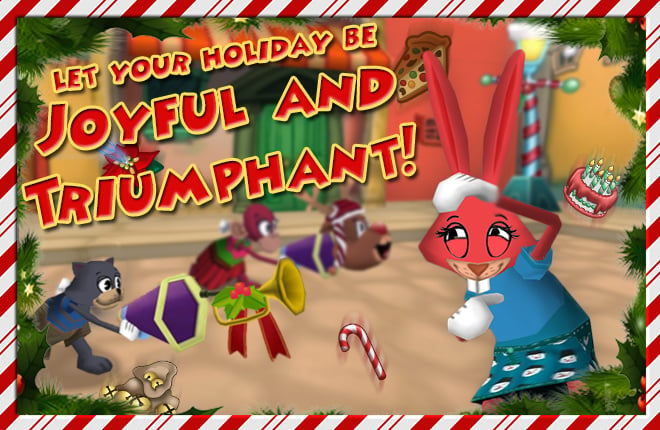 Hi, Toons! Your local gag shop bunny, Clerk Clara, here. I have some exciting news for you! Eeep, maybe it's best for me to keep up the Winter Holiday tradition and say it in song:
On one very
SILLY
winter break,
Clara came to say:
"Say, with all of this Christmas cheer, Why don't we
decorate some gags
this year?"
Then all of Toontown loved it!
As they shouted out with joy:
"Clara, the clerk of Toontown,
Your gags are my new favorite toy!"
So, what do you think?! Between bags of bells, juggling ice cubes, and a small slice of holiday fruit cake -- even our gags are now filled with the Christmas spirit! You'll also notice plenty of other things around Toontown with new, never-before-seen decorations. I hope you love them as much as I!
Merry Christmas from Goofy's Gag Shop!
December 17, 2015 [ttr-beta-v1.11.1]
Features:
• Implement events for Toontown's 12 Days of Winter 2015. We hope you like them!

Maintenance:
• Various fixes and code improvement.

---
Comments
Sorry! Comments are closed.
---
---
---
---
---
---
---
---
---
---
---
---
---
---
---
---
---
---
---
---
---
---
---
---
---
---
---
---
---
---
---
---
---
---
---
---
---
---
---
---
---
---
---
---
---
---
---
---
---
---
---
---
---
---
---
---
---
---
---
---
---
---
---
---
---
---
---
---
---
---
---
---
---
---
---
---
---
---
---
---
---
---
---
---
---
---
---
---
---
---
---
---
---
---
---
---
---
---
---
---
---
---
---
---
---
---
---
---
---
---
---
---
---
---
---
---
---
---
---
---
---
---
---
---
---
---
Back To Top