More News
All the way Home, You'll be Warm
Posted by Slate on December 18, 2015 at 2:00 PM
On the fourth day of winter, Toontown gives to you:
A Cattlelog full of clothing,
Brand new decorations,
Trees and lights o'plenty,
And a holiday packed with very merry news!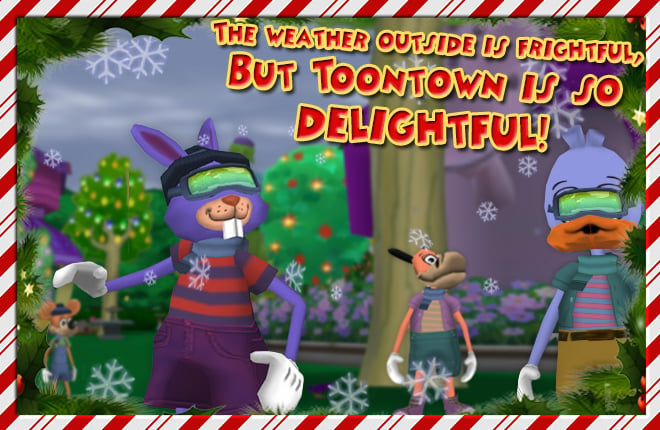 Hi there, Toontown! It's Slate Blue Rabbit, back again to show you some of the newest fashion of Toontown. Just in time, too, because it seems that
it's snowing in Toontown!
Last year, I debuted my signature scarf design along with some warm bundles to keep Toons warm. They were such a big hit that they're back again this year -- and with more selection than ever!
In fact, over 25 new winter items have been added to the Cattlelog.
With all of those new clothes, I know a lot of you are going to need space. For that reason, this next gift might be the best one of all for some of you:
All closets and trunks now hold 200 clothing items!
Don't worry about ordering any more from the Cattlelog - those huge closets now come equipped in every Toon's home, courtesy of Clarabelle.
Stay warm out there. It's only going to get colder from here! Happy Holidays!
---
Comments
Sorry! Comments are closed.
---
---
---
---
---
---
---
---
---
---
---
---
---
---
---
---
---
---
---
---
---
---
---
---
---
---
---
---
---
---
---
---
---
---
---
---
---
---
---
---
---
---
---
---
---
---
---
---
---
---
---
---
---
---
---
---
---
---
---
---
---
---
---
---
---
---
---
---
---
---
---
---
---
---
---
---
---
---
---
---
---
---
---
---
---
---
---
---
---
---
---
---
---
---
---
---
---
---
---
---
---
---
---
---
---
---
---
---
---
---
---
---
---
---
---
---
---
---
---
---
---
---
---
---
---
---
---
---
---
---
---
---
---
---
---
---
---
---
---
---
---
---
---
---
---
---
Back To Top