More News
We'll Have a Blue Winter Without YOU!
Posted by Toon HQ on December 19, 2015 at 2:00 PM
On the fifth day of winter, Toontown gives to you:
A MEGAAAAAA COG INVASION!
(bum bum bum...)
A Cattlelog full of clothing,

Brand new decorations,
Trees and lights o'plenty,
And a holiday packed with very merry news!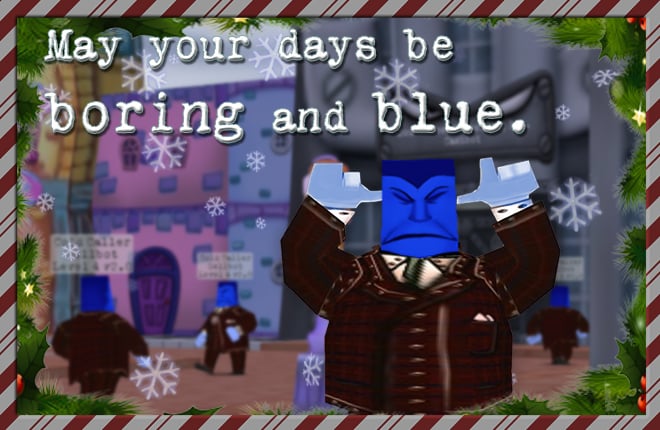 ATTENTION ALL TOONS: A Mega-Invasion has Begun!
Version 2.0 Cold Callers are taking over Toontown!!!
Toontown is about to get a whole lot colder -- and real quickly, too. The Cogs have just launched their yearly V2.0 Sellbot Invasion with the coldest Cogs around -- the Cold Callers.
The Sellbots love our holiday season for all of the profit they make, but they've never been able to understand what truly makes it a TOONTASTIC time of year. Luckily, with our new clothing to keep us warm and the cheerful themed gags, we can show them how to celebrate.
We need YOU to help us defeat these Cold Callers - or else we're going to have a
very Blue Christmas!
P.S. --
Looking for a small stocking stuffer? Toontown Member Mailers have temporarily returned!
Click here to learn more.
---
Comments
Sorry! Comments are closed.
---
---
---
---
---
---
---
---
---
---
---
---
---
---
---
---
---
---
---
---
---
---
---
---
---
---
---
---
---
---
---
---
---
---
---
---
---
---
---
---
---
---
---
---
---
---
---
---
---
---
---
---
---
---
---
---
---
---
---
---
---
---
---
---
---
---
---
---
---
Back To Top