More News
There's Snow Place Like Home for the Holidays
Posted by Paula Behr on December 22, 2015 at 2:00 PM
On the eighth day of winter, Toontown gives to you:
A VERY big blizzard,
Twice the gag experience,
Wacky winter carols,
AND A MEGAAAAAA COG INVASION!
(bum bum bum...)
A Cattlelog full of clothing,

Brand new decorations,
Trees and lights o'plenty,
And a holiday packed with very merry news!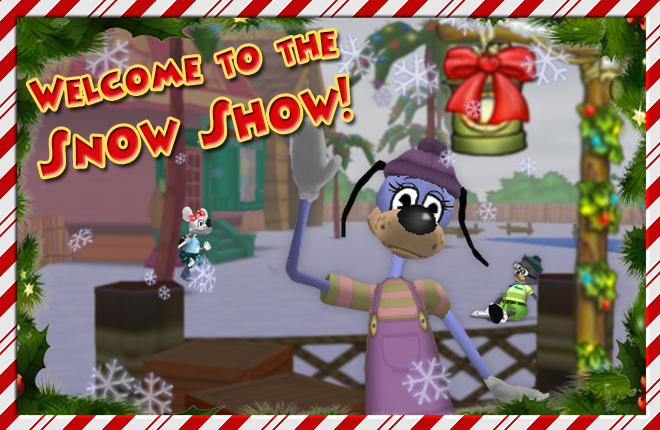 "Brrrrrrrrrrrrrrrrrrgh!"
That's what Toons all over Toontown are saying as the yearly blizzard has reached grand proportions. If you're planning on planning a vacation over at my shop, Hibernation Vacations, then you better pack a warm winter jacket -- because
every inch of Toontown is covered in snow!
Being a resident of the Brrrgh, I'm used to the chilling weather. I'm a Polar Bear, after all -- one of the few who survived after "Doomsday"... When Slappy gave us our winter white coats. They sure do help with the cold! I just wish we could find him...
Sorry, I'm just reminiscing in the past again! Don't let me put a damper on any of your holiday spirits. In fact, I quite like this blizzard - they always say that there's
No Place Like Home for the Holidays
, and with this snowfall, it seems like everywhere in Toontown is my home!
I hope you enjoy the rest of your winter, and don't forget to stop by and say "Howdy!" sometime!
---
Comments
Sorry! Comments are closed.
---
---
---
---
---
---
---
---
---
---
---
---
---
---
---
---
---
---
---
---
---
---
---
---
---
---
---
---
---
---
---
---
---
---
---
---
---
---
---
---
---
---
---
---
---
---
---
---
---
---
---
---
---
---
---
Back To Top