More News
ToonFest 2015
Posted by The Toontown Team on August 20, 2015 at 2:00 PM
With the closing of Toontown Online, the announcement of Toontown Rewritten, and
the first official ToonFest
which brought Toontown to be playable for everyone last year -- August 20th and September 19th have been key dates in Toontown's lifetime for the past two years. With such huge announcements of that scale, we certainly aren't going to let things die down this time around!
Grab your gags, find some friends, and get your party pants on -- it's time to get ready for
ToonFest 2015!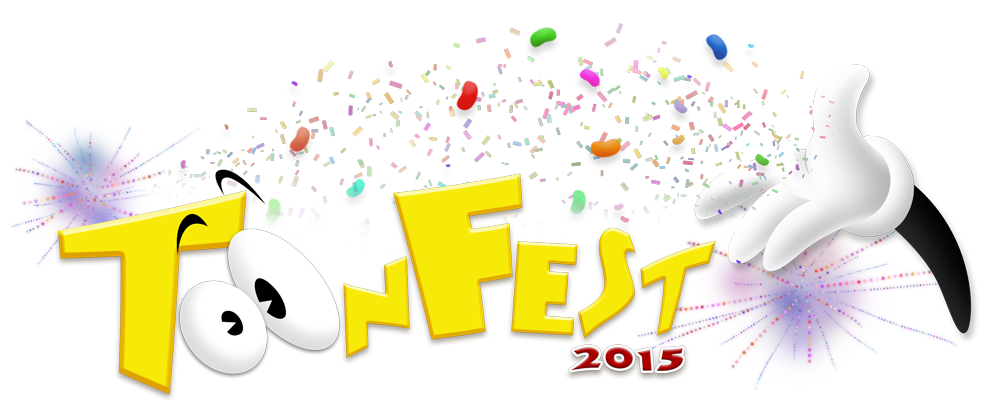 What is ToonFest?
ToonFest, based on the name of Disney's real-life Toontown party at Disneyland and Disney World, is the annual celebration of all things Toontown! It's time to take a break from the Cog battles, make some new friends, and play some fun games while we think about how far we've come.
This year also marked the first
ToonFest at OMGCon
, which isn't to be confused with the annual in-game ToonFest celebration. Every year, we will hope to have one real-life ToonFest to kick off the summer and Toontown's birthday, followed by the larger in-game ToonFest to wrap it all up with Toontown Rewritten's birthday -- which is what we're doing now!
---
What happens at ToonFest?
On September 19th, the official ToonFest celebration kicks off and we'll start telling you all about the Toontastic new gameplay that we'll be releasing throughout the event. Last year, we
introduced an entirely new area
JUST for ToonFest, which will be making a return with even more to come this year!
---
How do I prepare for ToonFest?
Preparing for ToonFest is easy! Any Toon can participate, both high and low, but you'll definitely want some friends with you. You should stock up on Jellybeans as well -- they may just come in handy!
For the next month, we're going to be constantly updating the blog with
Backstage Toontown
posts to tell you all about what we've been working on here on the Toontown Rewritten Team, along with announcing the
"Prep for ToonFest" contest winner
who will have their idea put into the game at some point during the length of ToonFest.
---
What is there to celebrate?
Toontown Rewritten has come a long way since we first announced the game two years ago, and every year it's getting better! We can't even begin to start listing all of the accomplishments that have been made, but here are a few little stats:
Toontown has:
• Over 630,000 registered players
• A peak population of 6,134 Toons
• Over 250,000 Cogs smashed daily
• ...And the most TOONTASTIC fans in the Tooniverse who have gotten us here!
To put that in "Cog" terms, Toontown has grown more than
400%
in the past year. We'd be greedy to ask for any more than that -- but we have no doubts that Toontown will continue to grow even more as time goes on!
We can't wait for you to see what we have in store for this year's ToonFest, and it's only going to get better from there. There's only one question we have left to cover, and it's the most important question of all:
Are YOU Toon Enough?
---
Comments
Sorry! Comments are closed.
---
---
---
---
---
---
---
---
---
---
---
---
---
---
---
---
---
---
---
---
---
---
---
---
---
---
---
---
---
---
---
---
---
---
---
---
---
---
---
---
---
---
---
---
---
---
---
---
---
---
---
---
---
---
---
---
---
---
---
---
---
---
---
---
---
---
---
---
---
---
---
---
---
---
---
---
---
---
---
---
---
---
---
---
---
---
---
---
---
---
---
---
---
---
---
---
---
---
---
---
---
---
---
---
---
---
---
---
---
---
---
---
---
---
---
---
---
---
---
---
---
---
---
---
---
---
---
---
---
---
---
---
---
---
---
---
---
---
---
---
---
---
---
---
---
---
---
---
---
---
---
---
---
---
---
---
---
---
---
---
---
---
---
---
---
---
---
---
Back To Top