More News
ToonFest: Let the Festivities Begin!
Posted by The Toontown Team on September 19, 2014 at 2:00 PM
It's TIME! But really, do we need to tell you that? I'm sure you already know. Grab your gags, your friends, and every Toon in town: Because
it's time for ToonFest
!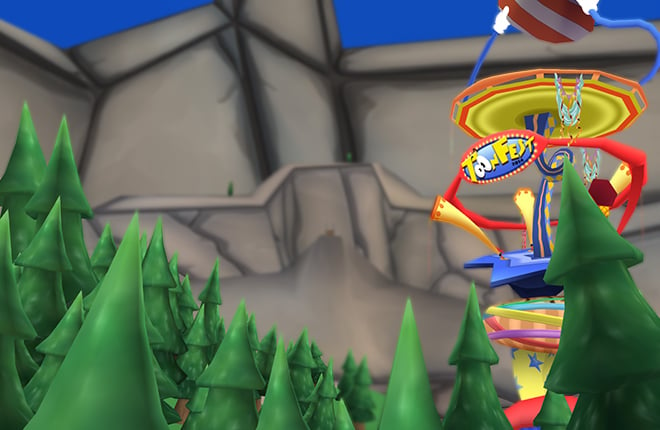 Upon logging in, you'll find yourself with a fancy new button in the top-right to take you straight to ToonFest anytime you want -- even if you're already there! (The new iPhone has absolutely nothing on our button technology.) You can also head over to Acorn Acres and enter the tunnel with the big "TOONFEST" Banner over it.
I could sit here all day and tell you about
Picnic Games
,
ToonFest Tower
,
Target practice
,
Flippy's new pet
, and the
Grand Finale Fireworks Show on Sunday
-- but why tell you when you can see for yourself?
Us Toon Troopers over at the TTR Team are just as busy and excited as you, so we're going to have to keep this post short while we go to greet you at the doors. Remember, today is
ToonFest Test Day
, which means there may be a few road bumps here and there that we'll fix up along the way. We'll fill you in on all of the juicy details of the Fireworks and the new outfits soon -- but we think you'll find it pretty easy to find something to occupy yourself with in the meantime!
Toons of the world, it's PARTY time!
September 19, 2014 [ttr-beta-v1.5.0]
Maintenance:
• Engine Update:

• Significantly improve client performance
• Implement multithreading support
• Fix a bug where music would turn back on after leaving an area despite being turned off in settings



Features:
• Implement ToonFest 2014!

• Open tunnel in Acorn Acres
• Implement Picnic Tables & Games
• Bring back a bunch of fun activities from the past
• ...And a whole lot more!




---
Comments
Sorry! Comments are closed.
---
---
---
---
---
---
---
---
---
---
---
---
---
---
---
---
---
---
---
---
---
---
---
---
---
---
---
---
---
---
---
---
---
---
---
---
---
---
---
---
---
---
---
---
---
---
---
---
---
---
---
---
---
---
---
---
---
---
---
---
---
---
---
---
---
---
---
---
---
---
---
---
---
---
---
---
---
---
---
---
---
---
---
---
---
---
---
---
---
---
---
---
---
---
---
---
---
---
---
---
---
---
---
---
---
---
---
---
---
---
---
---
---
---
---
---
---
---
---
---
---
---
---
---
---
---
---
---
---
---
---
---
---
---
---
---
---
---
---
---
---
---
---
---
---
---
---
---
---
---
---
---
---
---
---
---
---
---
---
---
---
---
---
---
---
---
---
---
---
---
---
---
---
---
---
---
---
---
---
---
---
---
---
---
---
---
---
---
---
---
---
---
Back To Top