More News
ToonFest is Tomorrow!
Posted by The Toontown Team on September 18, 2014 at 2:00 PM
In just a few hours, Toontown is going LIVE to Toons far and wide, and ToonFest will officially begin! We want to send a huge thanks once again to everyone who has been with us for the ride: Whether a new Toon in town or a pie-slinging, laugh-inducing, long-time Toontowner, you guys are the reason we've made it this far!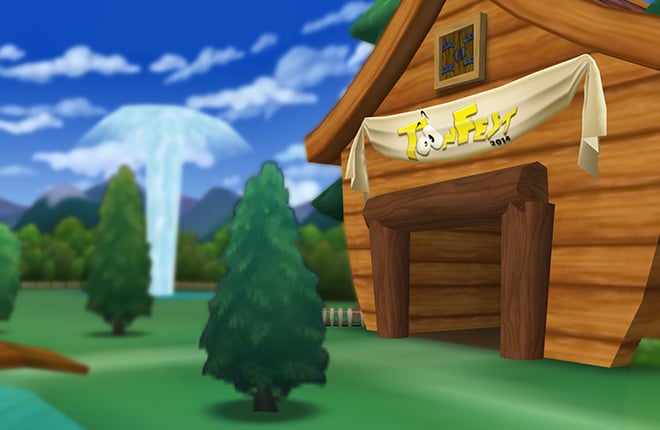 We know everyone is excited for ToonFest, which will be officially launching at
2:00 PM Toontown Time (PST)
tomorrow, so we wanted to take some time to go over what to expect and how to make the most of the weekend. Don't worry, we'll keep it short and sweet through the form of frequently asked questions (Which haven't been frequently asked yet, but they would have been) listed below. Let's check 'em out!
What time does ToonFest start?
ToonFest starts around 2:00 PM Toontown Time (PST), and will last all weekend until Monday! (We do have a habit of extending events past their original end date, though... It helps with the excitement!)
What should I wear?
"Oh, anything is fine."
is what we'd say if we didn't have some insane new outfits for you to wear. It's a good thing we have some insane new outfits for you to wear. We have two Alpha shirts, a Beta shirt, a PlayTime shirt, and a special shirt for all Toons who attend ToonFest! Be on the lookout for those designs tomorrow -- you'll want to check your closet!
How can I get there?
Just click the handy-dandy ToonFest Teleportation Button! You'll know it when you see it. You can also enter the tunnel through Acorn Acres if you'd like to enter the party loud and proud in a more fashionable sense. We know the feeling.
What kind of activities will there be?
Sssshhhh, that's a surprise! We have all sorts of activities for you to do -- a few Toontown classics, some popular activities that you guys really enjoyed in the past, and something completely new as well that will be sticking around after ToonFest! Our lips are sealed until tomorrow.
...But there
might
definitely be a 3 minute Finale Firework show of grand proportions. Just a thought.
Are we going to be invaded by Cogs/find Bossbot HQ/host an Election/conquer the earth/make a new Toon Species/go on a hunt for...
No, no, no, yes, no, and not yet.
ToonFest is going to be awesome -- but by no means is it on the scale of The Toon Council Presidential Election. ToonFest was put together throughout the past month as a fun place to celebrate and do some unique activities with all of the new Toons of Toontown. We're saving the massive content for later!
I experience a lot of freezing when playing Toontown and I'm worried about how that I won't be able to play with so many Toons in the area. What should I do?
You should do absolutely nothing, my dear player, because there's a big engine patch being sent out with ToonFest! We've been working to reduce stuttering through finally multi-threading parts of Toontown, as well as some other fun fixes that you'll see tomorrow. Don't expect it to fix every problem you've ever had, but it will certainly help with the freezing a bit.
How are you guys handling the server load? What happens if there is a problem?
We've been building an arc and counting our animals two by two, because let me tell you: There's going to be a flood tomorrow. And it has a good chance of being catastrophic.
We have no idea of knowing how many Toons will show up tomorrow, but we've been preparing the best we can. Don't be disappointed if the servers go down under heavy load or things seem to be breaking at the seams, because we're declaring tomorrow the official
ToonFest Test Fest
. While we've been double and triple checking everything we can, with such a huge amount of players there is a good chance that things could go wrong. If they do -- don't sweat it! We're going to be here all night monitoring things to make sure they stay in tip-top shape, and we'll have it all fixed up so you can play perfectly smooth on Saturday if anything goes wrong.
Let's put it this way: We built a bridge, but none of us are exactly professional bridge engineers. We've checked over the bridge design over and over again and can't identify any weak points, but suddenly we're going to be moving busloads of people over this bridge at the same time! It's going to be awesome to see how things go, and despite the pressure on top of it (Pun intended!), we're excited for it.
It's going to be an awesome weekend, and we'll be partying with you the whole way. It's a good idea to download the
Launcher
and files ahead of time so that you'll be able to get in right away when the PlayTime system is shut off. (We'll miss you, PlayLine!)
Toons of the world, let's save our town.
---
Comments
Sorry! Comments are closed.
---
---
---
---
---
---
---
---
---
---
---
---
---
---
---
---
---
---
---
---
---
---
---
---
---
---
---
---
---
---
---
---
---
---
---
---
---
---
---
---
---
---
---
---
---
---
---
---
---
---
---
---
---
---
---
---
---
---
---
---
---
---
---
---
---
---
---
---
---
---
---
---
---
---
---
---
---
---
---
---
---
---
---
---
---
---
---
---
---
---
---
---
---
---
---
---
---
---
---
---
---
---
---
---
---
---
---
---
---
---
---
---
---
---
---
---
---
---
---
---
---
---
---
---
---
---
---
---
---
---
---
---
---
---
---
---
---
---
---
---
---
---
---
---
---
---
---
---
---
---
---
---
---
---
---
---
---
---
---
---
---
---
---
---
---
---
---
---
---
---
---
---
---
---
---
---
---
---
---
---
---
---
---
---
---
---
---
---
---
---
---
---
---
---
Back To Top