More News
Backstage: Making the Melodies
Posted by The Toontown Team on September 7, 2014 at 2:00 PM
Welcome to the next entry of Toontown Rewritten's ToonFest backstage column! I'm the lead composer over here at Toontown -- you may know me as a little red cat named Cool Peaches. Unlike Kati and Joey, the authors of the other Backstage posts thus far, I actually haven't been part of the team since the beginning, which gives me some pretty great stories to tell.
Today we're going to hit the road and check out some history with the team, such as how I've gotten here, what I've worked on… You know, maybe I can even sneak in a new song I've written! Oh, but don't let Joey know. As much as Sir Max disobeys the Toon Council, Joey sure is a stickler for keeping things secret until they're released.
So, let's get this show on the road, shall we?

The New Toon in Town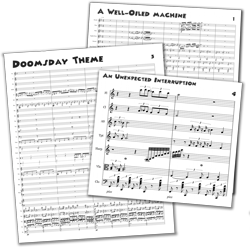 My time here on the team first began in February, where I was a complete stranger to everyone! (Unlike many team members, which were referred by friends.) Believe it or not, I made it straight onto the team just by sending an email to support showing off some of the compositions I've made in the past. After four days of selecting samples and anxious waiting later, I got a response from none other than Joey himself. It turns out that the team had been searching for a composer right when I sent my email, and I was given a little test: Write three jingles for an upcoming event that had been in planning.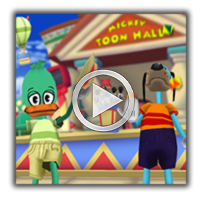 Some hours later, I had completed all three and sent them off to see what they thought… …and got a response that probably made it one of the proudest moments of my life: Joey telling me that the songs basically guaranteed me a spot on the team. Those three songs were completed without any tweaks necessary, and later became Slappy's Theme during the Toon Council Presidential Election.
The next day, I received the first project I would work on as an official member of the TTR Team, and the biggest track I have worked on yet: Setting the tone of Doomsday.
Creating a Cogtastrophe
The hugeness of the Doomsday melody is definitely a stark contrast with those first three jingles that took a few hours. I'd believe that this piece clocked in at a month! …Okay, that's not entirely true. According to my computer, the time between the first version of this piece and the version that made it in game was a mere 4 days, but I don't even want to count how many hours it was. I swear, I remember this piece taking weeks!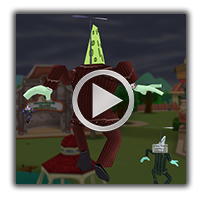 In any case, the big burst of a theme that I wrote for Doomsday took a lot of researching to put together. This wasn't just any ordinary Cog battle, this was
the
Cog battle that decided the fate of Toontown, and I wasn't going to let it run dry! There were tons of mash-ups put in there, from a standard Cog building floor to the theme of the CJ Battle. If you listen closely, you'll even hear a few unused themes.
Tunes for Future Toons
Everything you heard during Doomsday was composed by myself, my personal favorite being what I think is the best piece I've ever written: the credits theme. That won't be so true for the next event, though.
Just like I was picked up, we managed to pull another Toon onto the team named Yorke who has been helping out with composing plenty of themes for upcoming events. In fact, you'll get to hear his debut track right here at ToonFest! He has composed the entire event this time around, and I can tell you that you're going to love it.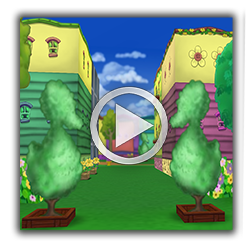 I've been wrapped up in composing things for a later event, but I know you Toons can be pretty eager to hear something new. Did you know that Daisy Gardens doesn't actually have music when you go into a shop? It just reuses the street theme, unlike other Playgrounds. I've been working on a piece recently to put in there, and YOU can help shape it up before it goes in game! Give it a listen by clicking the picture to the right, and let me know what you want to be improved before I send it over to Minnie to be used as an official melody.
My role is to write music over and over and over again until I've done an appropriate job realizing the scene that it accompanies. It can be a slow job at times, but it's all worth it!
Joining the TTR team was probably the best decision that I have ever made. It pretty much finalized my decision to become a professional composer, gave me a reason to do well in school, and deepened my interest in music ten-fold. Being here has made me a much better person, and I wouldn't trade my position here for the world.
If you have a dream: Whether it's to compose music, become an artist, or even one of the developers of Toontown: Don't give up! My chances of getting onto the team were one in a million, but I was that one. You can be too! I want to take the little space I have left to thank every one of you who has been following the project since it's early days (Just like myself at the time!), as well as all of my fellow team members who have made my experience the best it can be.
You Toons are the best, and make being here all the more worthwhile! Hope to see you at ToonFest!
---
Comments
Sorry! Comments are closed.
---
---
---
---
---
---
---
---
---
---
---
---
---
---
---
---
---
---
---
---
---
---
---
---
---
---
---
---
---
---
---
---
---
---
---
---
---
---
---
---
---
---
---
---
---
---
---
---
---
---
---
---
---
---
---
---
---
---
---
---
---
---
---
---
---
---
---
---
---
---
---
---
---
---
---
---
---
---
---
---
---
---
---
---
---
---
---
---
Back To Top