More News
Backstage: Redrawing Rewritten
Posted by The Toontown Team on August 30, 2014 at 2:00 PM
Howdy there, everytoon! I'm Toontown Rewritten's lead artist and illustrator, Kati. Some of you may know me better as Captain Sandy, Piranha2021, or not at all. I'm here to bring you the next exciting installment of the Backstage Column focusing on just how much work goes into painting the pictures that you've seen throughout the game -- and some of them that you haven't seen!
As an illustrator and graphic artist, I'm basically the gal that creates most of the fancy pictures and doodads you see outside of gameplay. From the logo, to the launcher, to this very website that you're reading from: It's my job to paint the picture of what Toontown really looks like.
From day one, the team has had a lot of artsy on-goings. You've seen plenty of them, but what you may not have seen are the stages we go through when designing – that is of course, until now. So without further ado, I present to you the exciting tale of: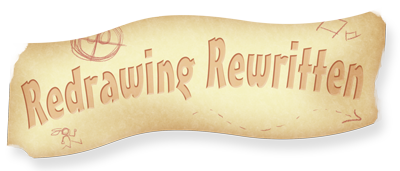 A Logo for Launch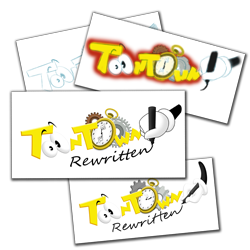 One of the very first projects I was able to work on when joining the team was establishing the new logo design. We wanted to create something that still carried the vibe of the original design, while giving it an identity all its own. On top of that, I needed to finish it before September 19th, 2013 so that we would be ready for our big announcement!
The initial idea for the logo I only had two requests from the team: A big toon hand to write "Rewritten", and fitting Doctor Surlee's stopwatch in there somewhere. Believe it or not, despite not having much to work with -- there has only ever been one design for the logo! Two days after receiving the request, I went ahead and passed along a sketched out version to the rest of the team. We all loved it, and I began my work on the logo that we see here today.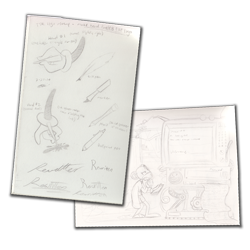 In the months to come, there would be be plenty of tweaks and changes to the logo, but never a complete redesign. Minor things would come about like fonts and borders, and then a few major things like updating the gears and hands. There's lots of things this little logo might change up in the years to come, so don't be surprised if you see it getting a little festive for things besides ToonFest!
Designing Displays
Logos aren't the only thing I've worked on, of course! If you're reading this post on our website, chances are you see some fancy scenery surrounding you! Some of you long-time Toontowners may remember that it really didn't start out that fancy.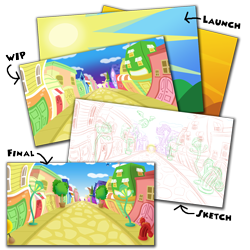 When Toontown Rewritten first launched, our website had been put together in a few days just to give people a place to register. The team gave me a ToonTask of giving it a quick background, which became loosely based off of Toon Estates. In the end it was meant to have a smiling sun shining down on a layered hillside, a little house or two dotting the horizon. Keeping things fairly simple so that the page content would be the main focus.
Shortly after our announcement, I had the chance to work on our website redesign involving the streets of Toontown. I took much of my inspiration from the awesome concept artwork that Disney created for a Toontown reboot in 2010 (Give "
Downtown Toontown
" a search, they did some awesome work!)
The idea behind this was that since Toontown Rewritten was taking all the elements of a game we all know and love, while bringing in fresh new ideas, I wanted the backdrop to give that same feeling. You start out walking the streets of Toontown Central, a famous and familiar place, but the further into the distance you go, the more new and exciting things you start to find. You may even recognize a few buildings inspired from the original artwork.
Creating the Concepts
Aside from illustrated works like the website or launch window, there's plenty of things that I do behind the scenes here at Toontown. I'd love to tell you all about them, but the team had a team of Lawbots put me under lock and key to keep them secret until they are released! I did manage to sneak a few out to talk about though that might pique your interests.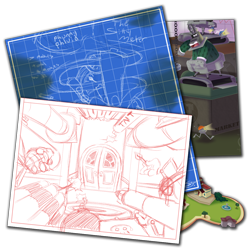 Part of my work here at Toontown Rewritten has been making concept art for the new content that our team will work on. As a minor example, you can see the drawings I did for the Toon Council Presidential Election in our last Backstage post, "
Designing Doomsday
". If you click on that fancy picture over to the right, you'll see a few others that I think you'll find fun to look at, and a bit of a tease for the future.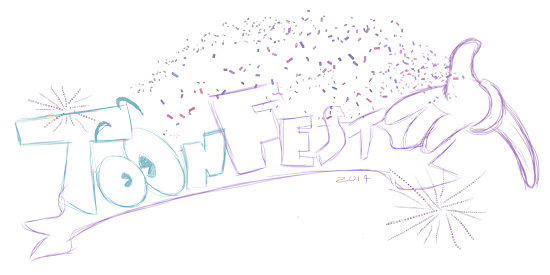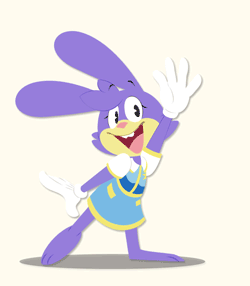 I know I may not run around the streets of Toontown as often as other folks here on the team do, but if you ever spot a puny purple rabbit with a vest named Captain Sandy, make sure to stop by and say "Howdy!"
You can also keep up with some other behind-the-scenes work along with my other projects on my deviantART page, which you can get to by clicking on Captain Sandy over to the right.
That's it for my Backstage column, and I hope to see every last one of ya'll over at ToonFest. See you soon!
---
Comments
Sorry! Comments are closed.
---
---
---
---
---
---
---
---
---
---
---
---
---
---
---
---
---
---
---
---
---
---
---
---
---
---
---
---
---
---
---
---
---
---
---
---
---
---
---
---
---
---
---
---
---
---
---
---
---
---
---
---
---
---
---
---
---
---
---
---
---
---
---
---
---
---
---
---
---
---
---
---
---
---
---
---
---
---
---
---
---
---
---
Back To Top