More News
Backstage: Translating the Tooniverse
Posted by The Toontown Team on September 13, 2014 at 3:00 PM
Witam, guten tag, and bonjour! -- Those are all ways to say "Hi!" in other languages, though I prefer the first one myself. I'm Agata, one of the long-time team members over here at Toontown Rewritten. You may not have heard of me before -- and that's because what I'm here to talk about today is a
brand new feature
making it's debut for the first time on Toontown!
It's time to tell you the exciting tale of...

Blast to the Past
A couple of years ago, Toontown.com wasn't the only place to play Toontown -- and it wasn't through Rewritten, either. Toontown had servers placed all around the world in plenty of different languages: French, German, Japanese, Spanish, and Portuguese! The UK had their own, too, despite being in the same language. The fanbase wasn't small, and there were plenty of Toons just like you who played the game with their friends across the world. You may even have played on one of those servers before (Shout-out to our many Portuguese fans!), but sadly they were closed long before Toontown.com was.
As great as they were, there was a clear problem: each of those languages had its own separate server, and thus different players. You know that us Toons love to stay united, but we couldn't do it when everyone was playing on a different server around the world!
One for All, and All on One!
We were all incredibly sad to see the other servers shuttered, just as much as we were when Toontown.com closed its doors. While Toontown Rewritten too is primarily English, we've been receiving fan letters, emails, and visits from players all around the world who have been keeping up with our project. From the huge outreach, we decided to work on something to change the Tooniverse forever and truly unite all of us Toons...
Toontown Rewritten will be internationally available for everyone, starting with French, German, and Polish languages.
These won't be separate servers, however: we're taking it to the next level. We will be releasing Toontown to play in multiple languages without you losing the ability to hang out with your multilingual pals - it's as easy as clicking a button!
Uniting the World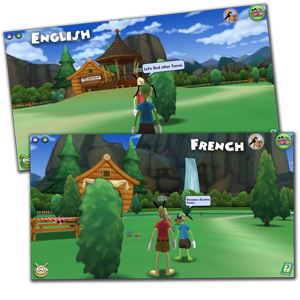 When you think of a translation, you may just be thinking of the Shop names, ToonTask dialogue, and Cog attacks. Those are all awesome to be able to read in your own language, but it really isn't enough. Toontown is all about teamwork, and what good is teamwork when none of your pals can understand what you're saying? Luckily, they won't have to.
Through the SpeedChat system, Toons from far and wide will be able to communicate with each other without even having to know a separate language! For example, let's say you and three of your best pals have just met up in Toontown Central. When you click the green SpeedChat button, you scroll down to find "Hello!" and click it. You see it as "Hello!", but for your French friend sees it as "Bonjour!", your German friend sees "Hallo!" and for your Polish friend as "Czesc!" Pretty neat, huh?
Similarly, if they choose a SpeedChat phrase in their own language, it will show in English for you. This means that you can direct your team's strategy with SpeedChat and be understood by everyone, regardless of language. It's a universal language, and you don't even have to take the time to learn it!
On the Lookout
Just as there are 3 languages to be released, there are 3 translators working on them. There is Nicolas, who maintains the French version -- you may know him as that lovable horse named Goshi! There is also Romeo who maintains the German version, and myself who helps out with the Polish version. Hello!
While we're only looking to support these three languages for the time being, we certainly aren't going to leave any others out! We're hoping to support as many languages as there is demand for, and we'd love to take you onto the team to help us do it. We're going to hold off on starting any new languages for now, but if you are up for translating Toontown into your own language, feel free to shoot us an email and show us what you can do!
When I first began translating, it was really overwhelming. Did you know that Toontown has over 10,000 strings of text that needed to be translated? (And it doesn't help that the developers keep adding more!) Along the way, however, I realized just how fun translating is! Making up megaphone jokes, figuring out the rhymes for Sticky Lou, referencing Polish business slang in Cogs' attacks and staring at the screen trying to fit lengthy Polish words where shorter English sentences once were - it all gave an immense amount of fun.
There were, of course, a few challenges on the way. English and Polish quite obviously differ, and Toontown was made directly for English. Although both are Indo-European languages, English is "Germanic" while Polish is "Slavic". I'm not going to go into the boring, linguistic details, but take my word for it: it's a pretty complicated language! The developers have had to engineer new ways to display the text while still being able to support all languages, and it has proven to be quite tricky at times. But hey, don't worry: it's nothing Toontown can't handle and soon enough you'll be able to play it in another language for yourself, too!
If you have suggestions on how we can better support Toons from around the world, let us know! We're always looking for ways to help Toontown become even more united.
Toontown International is still in the works, but it will be available to everyone soon through your local Shticker Book. Do widzenia, auf wiedersehen, and adieu -- I'll see you all at ToonFest!
---
Comments
Sorry! Comments are closed.
---
---
---
---
---
---
---
---
---
---
---
---
---
---
---
---
---
---
---
---
---
---
---
---
---
---
---
---
---
---
---
---
---
---
---
---
---
---
---
---
---
---
---
---
---
---
---
---
---
---
---
---
---
---
---
---
---
---
---
---
---
---
---
---
---
---
---
---
---
---
---
---
---
---
---
---
---
---
---
---
---
---
---
---
---
---
---
---
---
---
---
---
---
---
---
---
---
---
---
---
---
---
---
---
---
---
---
---
---
---
---
---
---
---
---
---
---
---
---
---
---
---
Back To Top