More News
Backstage: Toontown Retextured
Posted by The Toontown Team on September 16, 2014 at 3:00 PM
Hello, Toons far and wide! (Yeesh, we're running out of ways to say "Hi.") I'm Maya, the slate blue rabbit known as Slate. I am one of the three artists on the texturing team here at Toontown Rewritten. While Kati handles all of the graphic work and drawings, we take care of the things you see in-game -- and I'm here to tell you all about what we have in store!
The Claim to Fame
Way back in the day (Which hardly seems like a year ago.) before the days of Toontown Rewritten, I was just an ordinary Toon like you helping out with some fan art and graphic design on community fansites. Joey, our beloved Sir Max, secretly kept an eye on me while I was sharing my works. You can probably imagine how surprised I was when I was offered to join the team as their very first texture artist -- It was exciting to be welcomed in by the team, the very same ones I had been actively following for a few weeks in hopes that we would be able to play Toontown again!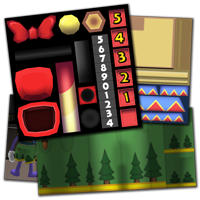 While I would have
loved
to fly out over to a Toon HQ of our own, most of our design and development takes place over the internet! As you may have guessed from
Agata's Backstage column
, the Toontown Rewritten team is made of toons from all over the world. I live in Israel, which is half-a-world away from most of the team. You'd think that this would open up some problems for working together, but really it has made us think of all sorts of creative ways to collaborate without being near each other at all. Amazing what happens when Toons unite, eh?
Taking in a new Team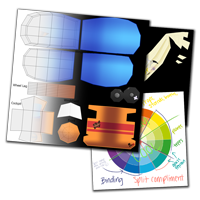 It didn't take us too long to understand that one person couldn't be texturing everything on their own. This time around, the team asked me to reach out to a few people that I had been watching and see if we can round up a Texturing Team for the massive project that we were about to undertake. (And it wasn't Doomsday, either! We'll get to that.)
Shortly after my arrival, my fellow texture artist Elizabeth (Also known as Joyful Roxy, or June) joined in and nailed everything I threw at her. A while after that in preparation for the election, we took in Roxana (Which you may know as Boo Boo) to help out. I know, I know -- we've been over how I joined the team, how the others got involved (And how you can as well!), and the mandatory hint towards something bigger, so what exactly does texturing compose of?
I'm glad you asked! Us texture artists are responsible for all of the new art you've seen in game -- the Election props, a couple of new shirts, and the upcoming ToonFest event as well. There is something bigger, however, that our real job here at Toontown Rewritten has composed of. Just like our upcoming Toontown International update, there has been another top-secret project brewing in the depths of Toontown Rewritten for the past year...
Tooning-Up Toontown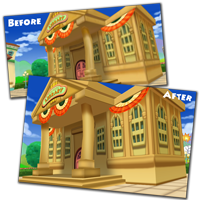 Let's face it: Toontown is old. As in
11 years old
. Believe it or not, Toontown was designed to be able to run on a Windows 98 desktop -- that was released before some of you were even born! Those fancy-shmancy computers were revolutionary at the time of their release, but they certainly didn't have much processing power.
11 years later, computers have come wonderfully far -- and Toontown has too! Have you ever noticed any of those weird looking walls, flat trees, and blurry objects? Our main goal here at the texturing team of Toontown Rewritten for the past year has been to get rid of all of that, and bring the game up to speed with the rest of technology. For the first time, I officially present
Toontown Retextured -- a complete revamp of the original Toontown graphics
.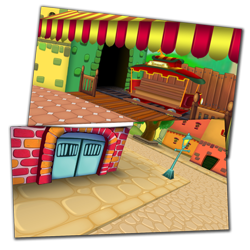 As you can see from the images, we've been taking every part of Toontown and turning it into something new with even more detail than before. It's new, it's clean, and it's completely toggleable! Our main focus throughout this side project of ours has been to make sure that we don't ruin the Toontown look -- we've taken every precaution that we can to make sure it looks just as great as the original, but we understand that not everyone
wants
to get rid of the blurry streets of our old town. If you like the original look, no sweat!
Now, don't get too excited yet! Just like Toontown International, Toontown Retextured is still being worked on and not quite ready for you guys to use. We'll be doing our best to get it out soon, and we'll keep you posted on our progress with occasional Backstage posts just like this one.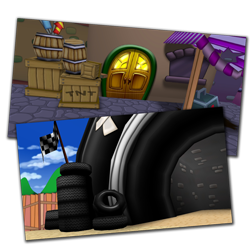 We'd love to hear what you think so far, and any suggestions for the future. Who knows, maybe we'll even get to see some new graphical options such as dynamic shadows and all sorts of other fancy options for Toons to enjoy!
Being a texture artist in Toontown Rewritten might sound like a lot of work, but we really enjoy every moment of it. We are really thankful for even being a part of this awesome game, and even more so for having the chance of seeing you all enjoy something we took part in remaking.
If you ever see us around town, make sure to say hello! That's it for this backstage column, but I'll see you in the newly-textured land of ToonFest!
---
Comments
Sorry! Comments are closed.
---
---
---
---
---
---
---
---
---
---
---
---
---
---
---
---
---
---
---
---
---
---
---
---
---
---
---
---
---
---
---
---
---
---
---
---
---
---
---
---
---
---
---
---
---
---
---
---
---
---
---
---
---
---
---
---
---
---
---
---
---
---
---
---
---
---
---
---
---
---
---
---
---
---
---
---
---
---
---
---
---
---
---
---
---
---
---
---
---
---
---
---
---
---
---
---
---
---
---
---
---
---
---
---
---
---
---
---
---
---
---
---
---
---
---
---
---
---
---
---
---
---
---
---
---
---
---
---
---
---
---
---
---
---
---
---
---
---
---
---
---
---
Back To Top