More News
Backstage: Designing Doomsday
Posted by The Toontown Team on August 24, 2014 at 2:00 PM
Welcome to the first Toontown Rewritten Backstage column. We're going to be creating these over the next few weeks to give you the inside scoop of what has been going on the past year, and we'll be sure to create more in the future to keep you informed about everything that is going on with the Toontown Rewritten Team.
I'm Joey -- better known as that kooky guy named Sir Max -- the project lead and community manager of Toontown Rewritten. Those are just a bunch of fancy words to say that I help organize the updates, events, and new content for the game. (As well as make sure that you guys are kept happy with it!)
To kick off our very first Backstage post, I wanted to take the time to talk about one of the most intensive, yet most fun parts of Toontown Rewritten's development:

Throughout Alpha, we found ourselves getting more and more constrained on our freedom to create things. The updates began getting bigger and bigger, and as we moved closer to Cogs, we had to slow down. A Trolley Game can be made in a day, but not a Cog HQ.
"Doomsday", our internal name for the Toon Council Presidential Elections, became our escape from that.
Setting the Stage
Work for Doomsday began in December, when the first script was set up. The script revolved around Flippy going against a competitor Toon, "Floppy", for his chance at becoming President of the Toon Council. (Only to be interrupted by the actions of a certain Scrooge on the other side of town.) Sounds pretty similar, right? There's something missing, though: When did our pals Alec Tinn and Slappy come along?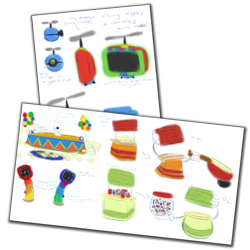 Floppy was always just an internal name until we came up with Slappy's character, but his story was quite a bit different than the lovable duck and wannabe-balloon-salesman that we met later on.
As replaced Floppy we began to develop Slappy, we began liking him more and more. Eventually we decided to change up the plot to try and have Slappy win the election, only to have his wacky personality become his downfall.
Marketing the Contestants
Now, hang on: Slappy wins the election? How did we know?
It's true -- we always knew that Slappy was going to win. Not in the sense that you'd think, though! As the writer of our updates, I was presented with the challenge of making Slappy the better contestant than this awesome blue dog that we've known for 10 years without making Flippy look bad.
It was really interesting to mess around with the two. Flippy's character was already there, and I couldn't just make him seem like a lousy guy since he would end up being the President in the end. We knew that new content was something that everyone was pretty hungry for, and decided that most of the new things would be given to Slappy while Flippy stuck with traditional objects like Fireworks and Pies.
The votes of the election were very real, but we knew who was going to win. (Or at least hoped that we did!) We made sure that Slappy seemed like the better guy so that the plot could all play out, because otherwise Flippy would have to be the one to go sad! I'd certainly hate to think about what would have happened if Flippy had won instead.
Cut Content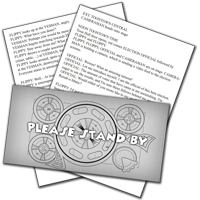 Aside from Alec Tinn, Slappy, and Flippy -- there was actually one more character in our band of Toons in the original election script. Before being replaced by Doctor Surlee's camerabots, there was one more Toon on stage by the name of "Lenny Flair" who operated a camera to livestream the event.
Flippy's stand was also originally meant to be an oven, which would help prepare more pies during the event. Flippy and his stand would argue about what kind of pie filling to use while Doctor Surlee yelled at them to get back on track.
Finally, during the invasion, Legal Eagles were meant to hover above the Playground, and swoop down on Toons who went sad. If you were taken by a Legal Eagle, you were sent to a spectator mode for a minute or so. It would have been interesting to see, but it proved to just not be very fun.
Creating an Invasion
Perhaps one of the hardest parts about designing Doomsday was the invasion itself -- what exactly happened if the Toons lost? How did it end?
Believe it or not: You couldn't lose! It certainly seemed like you could, though. It wasn't until our lead composer, "Cool Peaches", joined the team that the event really picked up pace. The awesome music she composed set the stakes high, and inspired the dark atmosphere that we turned Toontown Central into.
Doomsday was the first set of new content that we put into Toontown, and far from the last! We'll likely be seeing some similar things at ToonFest that you Alpha Testers enjoyed such as Flippy's pie stand, and I've heard that the Toons are trying to put together a new Hot Air Balloon too.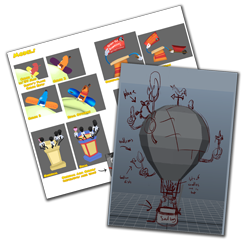 In the meantime, the concepting stages for our end of Beta event just started just last month, and we're hard at work on bringing it to life. I can't say too much yet, but I can tell you that it is going to be a heck of a lot more fun than Doomsday, but also a heck of a lot more work. You're going to want to train up your Toons when you get some time in-game, because you'll need a lots of Laff for this.
I hope you enjoyed our first Backstage post as part of our Road to ToonFest, and we'll make sure to continue them afterwards to fill you in on the development of Toontown Rewritten. Keep your eyes peeled, because the upcoming posts have some awesome new content to talk about. Stay TOONed, and I'll see you at ToonFest!
---
Comments
Sorry! Comments are closed.
---
---
---
---
---
---
---
---
---
---
---
---
---
---
---
---
---
---
---
---
---
---
---
---
---
---
---
---
---
---
---
---
---
---
---
---
---
---
---
---
---
---
---
---
---
---
---
---
---
---
---
---
---
---
---
---
---
---
---
---
---
---
---
---
---
---
---
---
---
---
---
---
---
---
---
---
---
---
---
---
---
---
---
---
---
---
---
---
---
---
Back To Top