More News
ToonFest: Apparel has Arrived!
Posted by The Toontown Team on September 20, 2014 at 2:00 PM
Well, we hate to say that we told you so -- but we told you so! As expected, there were some oddities throughout ToonFest Test Day, but now here on Day 2 of ToonFest things have started to straighten up and we're back into the swing of things. We'll be releasing updates all throughout the weekend to improve your ToonFest experience as more problems are reported. Don't worry! We'll extend it as long as we must to ensure that you get plenty of time to fully experience it.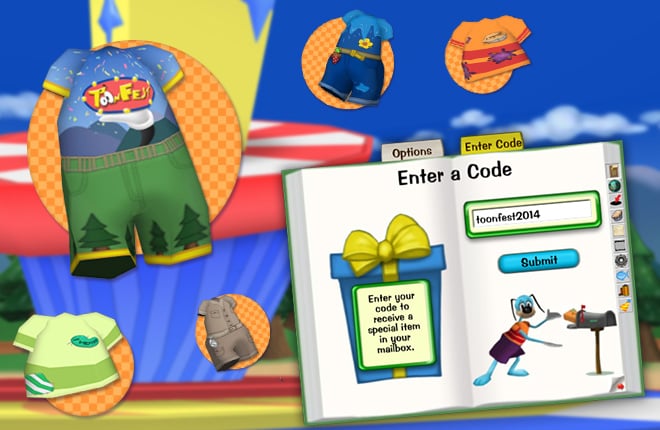 As the festivities have gone on, we've had a whopping
3,000 Toons Online
at once -- and the number keeps on growing! For those of you who are still having trouble getting in, we have loads of releases coming out to help you. Remember: Toontown Rewritten is still in Open Beta, and this was all expected and anticipated so that we could finally work the issues out once and for all. ToonFest is just a bit of a distraction to give you motivation to help us out.
Distraction as it is, it doesn't mean that we can't make it as fun as we can. Now that we've had some time to ourselves, it's time to release the official
ToonFest Apparel
for everyone to use, and tell you about the
Finale Fireworks Show
that will be going on every 3 hours starting tomorrow at 2:00PM Toontown Time!
We have 3 outfits and 2 shirts to give out, each of them based on how long you've been here with us on Toontown Rewritten. If you've been here since alpha -- you can get all 5! If you've been a PlayTime user, you can get the PlayTime shirt and the ToonFest shirt. See how it works? To redeem them, just head over to your Shticker Book on the "Options" Page, then click the "Redeem Code" tab and enter any of the codes below. If you're not sure that you are eligible -- try the code anyway! It will let you know if you can get it.
Now, without further ado, presenting the official Toontown Rewritten Tester clothing!

September 20, 2014 [ttr-beta-v1.5.1]
Maintenance:
• Engine Update: Further improve client performance

Bugfixes:
• Fix the new clothing items to go with their proper pairs
• Fix fonts being wonky on the new engine

September 20, 2014 [ttr-beta-v1.5.2]
Maintenance:
• Toons are now put into the district with the lowest population upon login, rather than trying to fill up existing districts.

Bugfixes:
• Fix a handful of reported ToonFest crashes

September 20, 2014 [ttr-beta-v1.5.3]
Bugfixes:
• Fix district resets relating to ToonFest

Tweaks:
• Give Fluffy his original look from Toontown Online

---
Comments
Sorry! Comments are closed.
---
---
---
---
---
---
---
---
---
---
---
---
---
---
---
---
---
---
---
---
---
---
---
---
---
---
---
---
---
---
---
---
---
---
---
---
---
---
---
---
---
---
---
---
---
---
---
---
---
---
---
---
---
---
---
---
---
---
---
---
---
---
---
---
---
---
---
---
---
---
Back To Top