More News
Backstage: New Website News
Posted by The Toontown Team on August 24, 2015 at 3:30 PM
Welcome to our latest edition of the Toontown Rewritten backstage column. These columns will give you the total inside scoop on what we've been working on for Toontown Rewritten in the past year -- or at least, some of it!
I'm Joey, also known as "Sir Max", being joined by our pal Luke ("King Romeo") for this backstage post about a feature we're fairly excited about. Back in January,
Sir Max hinted
at this little project of ours, and at long last it is finally coming to life. Let's hear all about the: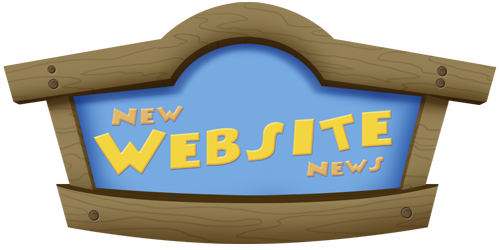 Replacing the Outstandingly Outdated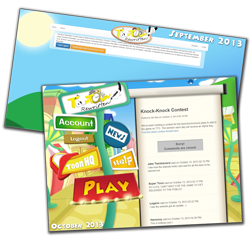 Get this: Did you know that our current website (The one with a sign) wasn't meant to last past Alpha? Some of you may even remember our Pre-Alpha website, which was definitely a sight for sore eyes!
We love the colorful and fun look of our website, but when you get into it: It's pretty bland. There's nothing to do! It was only meant to be a way to deliver news to you Toons and be replaced shortly after Alpha ended, but we got incredibly sidetracked along the way and now it's been stuck with us for the greater part of two years.
Time for a Change
Ever since Beta began, our artists have been on and off creating new concepts for a cool, new website for Toontown. We've been through many concepts, and while a lot of them were pretty cool, our main intention has always been clear: There needs to be something to
do.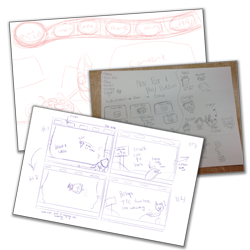 With those things to do, though, our current website had another problem: Times are changing, and it's a pain to use on smartphones! We're making sure to change that this time around. It's just as annoying to us as it is to you -- Can you imagine how troublesome it is to write a blog post from my phone with this big sign in the way?
Creating a Delightful Design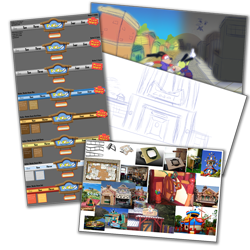 Throughout every website Toontown has ever had, including Disney's, there have always been three simple rules:
1. It's gotta be fun.
2. It's gotta look wacky.
3. It's gotta have a big, red "PLAY" button!
When we brought Luke onto the team last year to help us finalize our new website design, these rules were all taken into account along with plenty of other references for nostalgia and Toontastic awesomeness. For example, do you remember the weekly polls from Toontown Online's very first website? Those were great -- and they'll be coming back!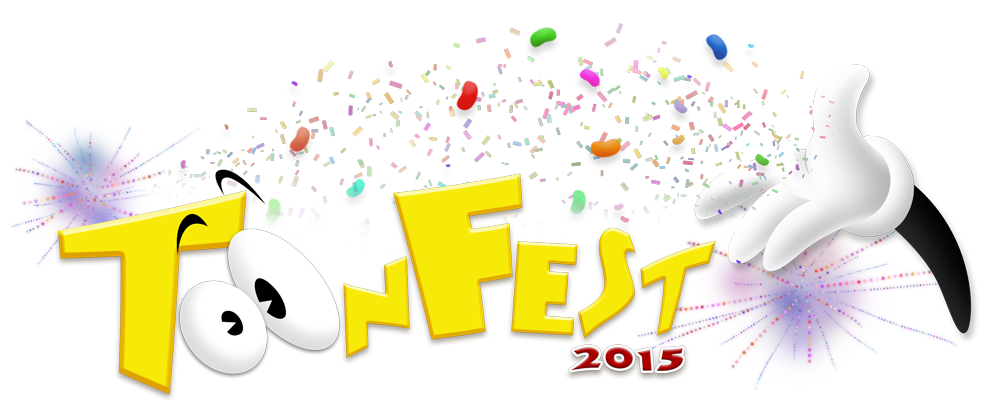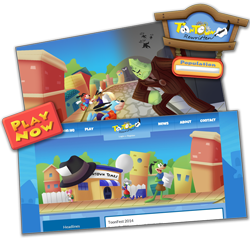 Our new website is in the final stages of designing now, and you'll be seeing it appear here sooner than you'd expect! Right now we're focused on getting out the initial design, and then many more features will come soon after. (Toon HQ has been under construction long enough, has it not?)
Stay TOONed to see what the final design will like, but in the meantime, we want to hear from you: What do YOU want to see on Toontown's new website?
We're eager to hear your suggestions, and we'll be eager to hear more when we see you at ToonFest 2015!
---
Comments
Sorry! Comments are closed.
---
---
---
---
---
---
---
---
---
---
---
---
---
---
---
---
---
---
---
---
---
---
---
---
---
---
---
---
---
---
---
---
---
---
---
---
---
---
---
---
---
---
---
---
---
---
---
---
---
---
---
---
---
---
---
---
---
---
---
---
---
---
---
---
---
---
---
---
---
---
---
---
---
---
---
---
---
---
---
---
---
---
---
---
---
---
---
---
---
---
---
---
---
---
---
---
---
---
---
---
---
---
---
---
---
---
---
---
---
---
---
---
---
---
---
---
---
---
---
---
---
---
---
---
---
---
---
---
---
---
---
---
---
---
---
---
---
---
---
---
---
---
---
---
---
---
---
---
---
---
---
---
---
---
---
---
---
---
---
---
---
---
---
---
---
---
---
---
---
---
---
---
---
---
---
---
---
---
---
---
---
---
---
---
---
---
---
---
---
---
---
---
---
---
---
---
---
---
---
---
---
---
---
---
---
---
---
---
---
---
---
---
---
---
---
---
---
---
---
---
---
---
---
---
---
---
---
---
---
---
---
---
---
---
---
---
---
---
---
---
---
---
---
Back To Top