More News
Writer's Blockade
Posted by Sir Max on January 20, 2015 at 2:00 PM
Long time, no see! I can tell you've been finding our lack of blog posts disturbing. Some have asked, "Has Sir Max lost his touch? Is he experiencing writer's block?" And let me tell you, good Toon, the answer to both of those questions is an absolute "Yes."
I should clarify that a bit. It's not writer's
block
, but rather a writer's
blockade
that I've set up around the Toontown Times building. I haven't seen sunlight in weeks! You heard me right, Toons. Grab your picket signs, torches, and miscellaneous pointy farm tools, because
we're going to a protest!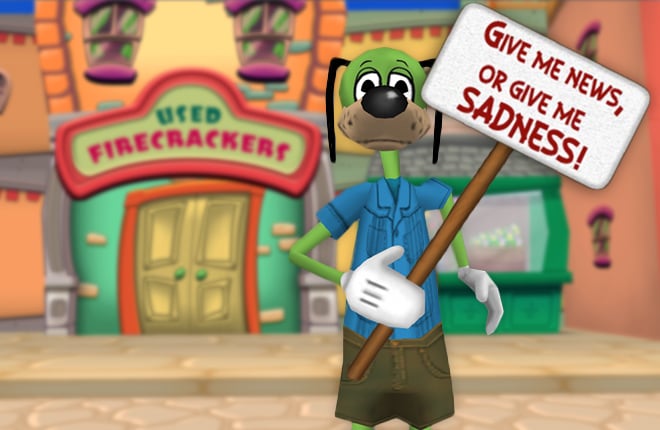 It all started about 4 and a half minutes ago, but ah, I can remember it like it's yesterday. I was talking to the Toon Council about getting the working conditions of the Toontown Times improved - did you know that our blog hasn't changed once since the Daily Alpha Updates? Yeesh, it needs a makeover. So I ask them about it, and you know what they say?
"We'll get to that soon!"
To set up the blockade I just I went and shoved a couch and some ducktape over the door of the building. It occurred to me, however, that I
might
have locked myself inside. Luckily, I'm confident that you guys can handle the protest for me while I lay here and relax. Oh, and if anyone can throw in some peanut butter and crackers through the window, it would be much appreciated.
Hey, you know what they say: "Burn the buildings of democracy! Tear down the legislative! Buy more T-Shirts!" -- and that's precisely what we'll pretend we're doing!
(Keep your eyes peeled for more blog posts ahead - we've been really busy over the duration of the new year, and you'll see why soon enough! We're sure Sir Max's shenanigans will keep you occupied in the meantime.)
January 15, 2015 [ttr-beta-v1.7.17]
Maintenance:
• Major Update! We've rewritten major parts of the code to give an immense performance boost to our servers. This will be continued further in the next update, so keep your eyes peeled for smooth performance on the horizon.

Bugfixes:
• Fix the estate phone animation occasionally not working.
• Miscellaneous bugfixes.

---
Comments
Sorry! Comments are closed.
---
---
---
---
---
---
---
---
---
---
---
---
---
---
---
---
---
---
---
---
---
---
---
---
---
---
---
---
---
---
---
---
---
---
---
---
---
---
---
---
---
---
---
---
---
---
---
---
---
---
---
---
---
---
---
---
---
---
---
---
---
---
---
---
---
---
---
---
---
---
---
---
---
---
---
---
---
---
---
---
---
---
---
---
---
---
---
---
---
---
---
---
---
---
---
---
---
---
---
---
---
---
---
---
---
---
---
---
---
---
---
---
---
---
---
---
---
---
---
---
---
---
---
---
---
---
---
---
---
---
---
---
---
---
---
---
---
---
---
---
---
---
---
---
---
---
---
---
Back To Top