More News
Backstage: Tweaks to Toontown
Posted by The Toontown Team on January 11, 2015 at 1:00 PM
Hey once again, and welcome to the first Toontown Backstage Column of 2015. We've got some exciting things in store for you this year, and we're eager to talk about them! This is the first Backstage Column we've done since ToonFest last year, so there are a load of things to talk about. In this one, however, we'll be talking less about us, and more about you.
We've read your reddits, focused on your forums, and been enlightened by your emails - and based on your feedback it's high time that we make a couple of...

Suggestions and Questions
Toontown is an enormous game, and has been going on for almost 12 years now! Even for one of the longest running MMOs in the history of gaming, however, there is
always
room for improvement. You guys have been awesome at
suggesting
all
sorts
of
new
content
that we've really enjoyed, and sometimes gameplay can be fully rejuvenated by just the smallest of tweaks.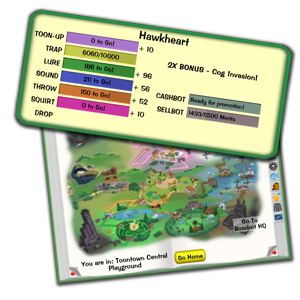 We've been asking questions lately about the small details of the game that could make the experience tremendously better. What if gardening took less time? What if Cog HQs always gave double experience, regardless of an invasion? What if fishing was made easier by just the tiniest percentage? Would the game change? And would it change for the worse, or for the better?
For the past few weeks, we've been making these sort of small changes to various areas of the game and testing them with our in-house Quality Assurance team to see what fits the bill to be included in one huge
community-suggested update
. And now, we want to hear from you!
If You Can't Do the Grind, Don't Do the Time
One of the most frequent problems that Toons have in Toontown is that it's just really,
really
, long. Some of the later game elements seem to become repetitive after a while, and it's a problem even the original developers strove to fix! Rather than asking ourselves, however, this is a question that we want to ask you.
Cog battling is fun, don't get us wrong -- it's even the national pastime of Toontown. When you have to defeat 500, 1,000, or even 5,000 Cogs, however -- it can become a chore. Other parts of Toontown, too, can become tedious -- and now we're asking you: What part of Toontown would you tweak, and how would you make it the most fun?
Rewriting Rewritten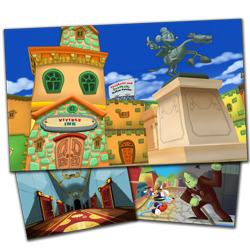 Although this particular update is geared towards small tweaks with big outcomes, we have even bigger tweaks with even bigger outcomes coming soon. Our Toontown Retextured project is still being built up strong, and you can't forget about the new Toon Hall that will be coming out too!
We're also pleased to announce that our site redesign is getting close to its final stages, which will open brand new doors for Toontown Rewritten's future. We have lots in store for you, and oof, that's only the first part of the year. Don't even get us started on the rest.
As always, we love hearing your suggestions and we especially need them now. If you pitch an idea, who knows, maybe it will be included in the Tweaks for Toontown Update. Keep your eyes peeled -- that update will be hitting your local Toon-filled town in the coming weeks.
Thanks for reading our little progress update -- Stay
TOON
ed for the awesome year ahead!
---
Comments
Sorry! Comments are closed.
---
---
---
---
---
---
---
---
---
---
---
---
---
---
---
---
---
---
---
---
---
---
---
---
---
---
---
---
---
---
---
---
---
---
---
---
---
---
---
---
---
---
---
---
---
---
---
---
---
---
---
---
---
---
---
---
---
---
---
---
---
---
---
---
---
---
---
---
---
---
---
---
---
---
---
---
---
---
---
---
---
---
---
---
---
---
---
---
---
---
---
---
---
---
---
---
---
---
---
---
---
---
---
---
---
---
---
---
---
---
---
---
---
---
---
---
---
---
---
---
---
---
---
---
---
---
---
---
---
---
---
---
---
---
---
---
---
---
---
---
---
---
---
---
---
---
---
---
---
---
---
---
---
---
---
---
---
---
---
---
---
---
---
---
---
---
---
---
---
---
---
---
---
---
---
---
---
---
---
---
---
---
---
---
---
---
---
---
---
---
---
---
---
---
---
---
---
---
---
---
---
---
---
---
---
---
---
---
---
---
---
---
---
---
---
---
---
---
---
---
---
---
---
---
---
---
---
---
---
---
---
---
---
---
---
---
---
---
---
---
---
---
---
---
---
---
---
---
---
---
---
---
---
---
---
---
---
---
---
---
---
---
---
---
---
---
---
---
---
---
---
---
---
---
---
---
---
---
---
---
---
---
---
---
---
---
---
---
---
---
---
---
---
---
---
---
---
---
---
---
---
---
---
---
---
---
---
---
---
---
---
---
---
---
---
---
---
---
---
---
---
---
---
---
---
---
---
---
---
---
---
---
---
---
---
---
---
---
---
---
---
---
---
---
---
---
---
---
---
---
---
---
---
---
---
---
---
---
---
---
---
---
---
---
---
---
---
---
---
---
---
---
---
---
---
---
---
---
---
---
---
---
---
---
---
---
---
---
---
---
---
---
---
---
---
---
---
---
---
---
---
---
---
---
---
---
---
---
---
---
---
---
---
---
---
---
---
---
---
---
---
---
---
---
---
---
---
---
---
---
---
---
---
---
---
---
---
---
---
---
---
---
---
---
---
---
---
---
---
---
---
---
---
---
---
---
---
---
---
---
---
---
---
---
---
---
---
---
---
---
---
---
---
---
---
---
---
---
---
---
---
---
---
---
---
---
---
---
---
---
---
---
---
---
---
---
---
---
---
---
---
---
---
---
---
---
---
---
---
---
---
---
---
---
---
---
---
---
---
---
---
---
---
---
---
---
---
---
---
---
---
---
---
---
---
---
---
---
---
---
---
---
---
---
---
---
---
---
---
---
---
---
---
---
---
---
---
---
---
---
---
---
---
---
---
---
---
---
---
---
---
---
---
---
---
---
---
---
---
---
---
---
---
---
---
---
---
---
---
---
---
---
---
---
---
---
---
---
---
---
---
---
---
---
---
---
---
---
---
---
---
---
---
---
---
---
---
---
---
---
---
---
---
---
---
---
---
---
---
---
---
---
---
---
---
---
---
---
---
---
---
---
---
---
---
---
---
---
---
---
---
---
---
---
---
---
---
---
---
---
---
---
---
---
---
---
---
---
---
---
---
---
---
---
---
---
---
---
---
---
---
---
---
---
---
---
---
---
---
---
---
---
---
---
---
---
---
---
---
---
---
---
---
---
---
---
---
---
---
---
---
---
---
---
---
---
---
---
---
---
---
---
---
---
---
---
---
---
---
---
---
---
---
---
---
---
---
---
---
---
---
---
---
---
---
---
---
---
---
---
---
---
---
---
---
---
---
---
---
---
---
---
---
---
---
---
---
---
---
---
---
---
---
---
---
---
---
---
---
---
---
---
---
---
---
---
---
---
---
---
---
---
---
---
---
---
---
---
---
---
---
---
---
---
---
---
---
---
---
---
---
---
---
---
---
---
---
---
---
---
---
---
---
---
---
---
---
---
---
---
---
---
---
---
---
---
---
---
---
---
---
---
---
---
---
---
---
---
---
---
---
---
---
---
---
---
---
---
---
---
---
---
---
---
---
---
---
---
---
---
---
---
---
---
---
---
---
---
---
---
---
---
---
---
---
---
---
---
---
---
---
---
---
---
---
---
---
---
---
---
---
---
---
---
---
---
---
---
---
---
---
---
---
---
---
---
---
---
---
---
---
---
---
---
---
---
---
---
---
---
---
---
---
---
---
---
---
---
---
---
---
---
---
---
---
---
---
---
---
---
---
---
---
---
---
---
---
---
---
---
---
---
---
---
---
---
---
---
---
---
---
---
---
---
---
---
---
---
---
---
---
---
---
---
---
---
---
---
---
---
---
---
---
---
---
---
---
---
---
---
---
---
---
---
---
---
---
---
---
---
---
---
---
---
---
---
---
---
---
---
---
---
---
---
---
---
---
---
---
---
---
---
---
---
---
---
---
---
---
---
---
---
---
---
---
---
---
---
---
---
---
---
---
---
---
---
---
---
---
---
---
---
---
---
---
---
---
---
---
---
---
---
---
---
---
---
---
Back To Top