More News
Toontown Tweaks: The Start of Something Hue
Posted by Shockley on January 28, 2015 at 2:00 PM
Hey there! Shockley, the head Toon Trooper of construction here. It took a while, but we came in and managed to take down Sir Max's Blockade using one of the inflatable wrecking balls from a shop in Toontown Central. Who knew that a pool toy could do so much damage?
Normally, we wouldn't have been so hasty to get an update out, but after a bit of silence throughout January and Sir Max's strike, we're finally ready to show you just a small bit of what we've been working on. Welcome to Day 1 of the
Toontown Tweaks Update
!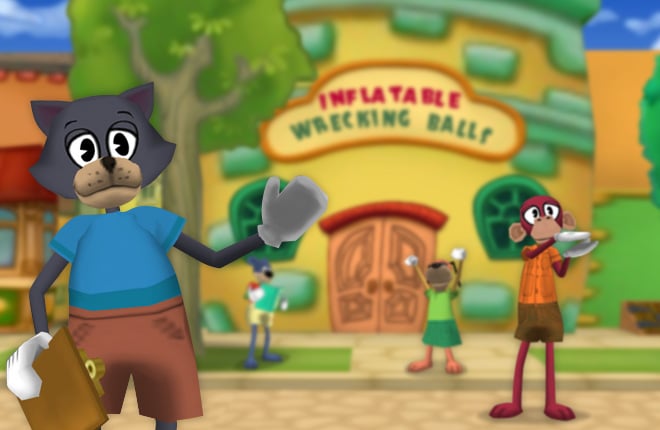 As announced with
this month's backstage post
, us Toon Troopers have been finding all of the flaws throughout our town and listening to you Toons on how we should fix them. We've packed so much into this update that it's going to take
Four Daily Blog Posts
to announce the whole thing, leading up to the update's release (including full release notes) on
February 1st
to start the month off right!
The tweaks put into this first version of Toontown Tweaks are immense, and there will only be more to come in the future. In fact, I've heard from Tutorial Tom that the amount of creativity put into it has brought
10 New Toon Colors
to Toontown for the very first time. Additionally, we've added a bunch of wacky new names to the Pick-a-Name to suit your new Toon needs.
I hope you're not excited yet, because you're not meant to be. I'm only here to make the announcement - one minor tweak of many - and tomorrow will start up the big guns that have been requested by
YOU
for years - even before Rewritten! Get ready for one of the first community-suggested updates in Toontown History!
---
Comments
Sorry! Comments are closed.
---
---
---
---
---
---
---
---
---
---
---
---
---
---
---
---
---
---
---
---
---
---
---
---
---
---
---
---
---
---
---
---
---
---
---
---
---
---
---
---
---
---
---
---
---
---
---
---
---
---
---
---
---
---
---
---
---
---
---
---
---
---
---
---
---
---
---
---
---
---
---
---
---
---
---
---
---
---
---
---
---
---
---
---
---
---
---
---
---
---
---
---
---
---
---
---
---
---
---
---
---
---
---
---
---
---
---
---
---
---
---
---
---
---
---
---
---
---
---
---
---
---
---
---
---
---
---
---
---
---
---
---
---
---
---
---
---
---
---
---
---
---
---
---
---
---
---
---
---
---
---
---
---
---
---
---
---
---
---
---
---
---
---
---
---
---
---
---
---
---
---
---
---
---
---
---
---
---
---
---
---
---
---
---
---
---
---
---
---
---
---
---
---
Back To Top