More News
Toontown Tweaks: Grinding Gears in the Cog HQs
Posted by Lord Lowden Clear on January 29, 2015 at 2:00 PM
Greetings, once again, from the Toon Resistance. I'm coming to you remotely from the depths of a restricted Cog Factory, right inside of Sellbot HQ. Contain your excitement and silliness -- we can have none of it here, despite the exciting news that the Toon Council has instructed me to tell you about. Brace yourselves!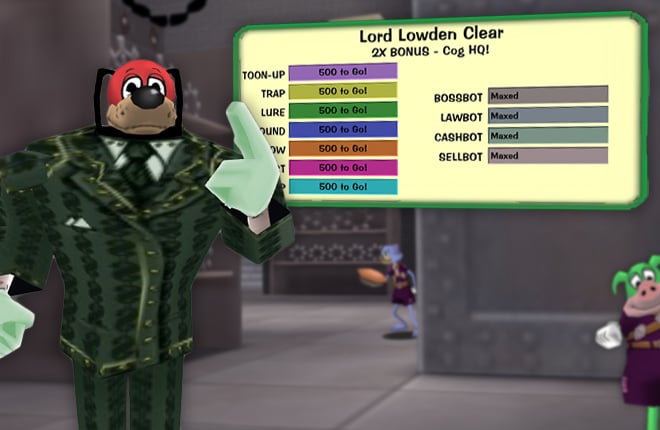 The Cog HQs have always been quite complicated to break into, and after all of the successes (and sadly, failures) the Toon Council has decided that the incentives for helping the Resistance should be even further increased! Let's take a look...
Cog HQs can certainly be difficult, which is why the Resistance Rangers were sent out to find improved rewards for those dedicated to the cause. After doing their research, Toons rescued from the Sellbot V.P. will now give
Two SOS Card
rewards, and we've also uncovered top-secret
larger Invasion Summons
for the Lawbot C.J. that spawn anywhere from 3,000 to a rare
10,000
Cogs!
Wait just a moment there, Toons - we aren't done yet! This one is the big fish: To those who go above and beyond the call of the Resistance, all Toons with a Level 50 Cog Suit will now receive
Teleportation Access
to each Cog HQ they max.
Finally, to grind even more gears down in the Cog HQs, the Toon Council has declared that Cog HQ factories and bosses are considered to be "Invasion zones" -- which means all Toons receive
twice the experience
regardless if there is an invasion running outside of the HQ! No longer will you need to wait around at the end for an invasion to start -- you'll get the experience either way!
These are only a few of the news to come -- I've heard Lil Oldman will return later this week for even more good gag tips and tweaks. Until next time, keep them bustling -- with laughter!
Lord Lowden Clear
Leader of the Toon Resistance
---
Comments
Sorry! Comments are closed.
---
---
---
---
---
---
---
---
---
---
---
---
---
---
---
---
---
---
---
---
---
---
---
---
---
---
---
---
---
---
---
---
---
---
---
---
---
---
---
---
---
---
---
---
---
---
---
---
---
---
---
---
---
---
---
---
---
---
---
---
---
---
---
---
---
---
---
---
---
---
---
---
---
---
---
---
---
---
---
---
---
---
---
---
---
---
---
---
---
---
---
---
---
---
---
---
---
---
---
---
---
---
---
---
---
---
---
---
---
---
---
---
---
---
---
---
---
---
---
---
---
---
---
---
---
---
---
---
---
---
---
---
---
---
---
---
---
---
---
---
---
---
---
---
---
---
---
---
---
---
---
---
---
---
---
---
---
---
---
---
---
---
---
---
---
---
---
---
---
---
---
---
---
---
---
---
---
---
---
---
---
---
---
---
---
Back To Top