More News
Backstage: Creating the Convention
Posted by The Toontown Team on September 15, 2015 at 2:15 PM
Welcome to the most recent addition of the Toontown Backstage columns -- Wow, what an honor it is to be here! My name is Jacob, known as "Weird Wacko", one of the support and moderation team members here on the Toontown Rewritten team.
Moderation isn't all I take care of, though. I'm actually one of the primary coordinators for making
ToonFest at OMGCon 2015
possible! The team asked me to write this post for you all, and either they've all gone crazy, or they finally realized it was about time to stop letting Sir Max hog all the spotlight! Well, let's see if we can do this without getting sidetracked
too
much. Let's talk about how I helped with:

An Interesting Idea
When I'm not spending my time dropping big weights on Cogs, training trap, or waiting on help to defeat a Cog Building ToonTask, I like to attend conventions. Did I say like? I mean I
LOVE
it!
Traveling is one of the best parts of attending conventions, with all of the cool places you get to see. We've always tossed around the idea of attending a convention as the Toontown Rewritten Team, but I finally realized how it could actually happen! I ran home in my costume with my shield flying in the air to arrange a meeting with Sam ("Shockley") and Joey ("Sir Max"), who completely loved the proposal.
This time last year, there was talk of a real-world ToonFest, but our playerbase had only 150,000 users and we felt that it wasn't enough just yet. When we hit a landmark 500,000 registered accounts only a few months later, we felt it was about the time to use a Level 7 Lure gag with a 100% chance of not missing our opportunity.
An Outstanding Announcement!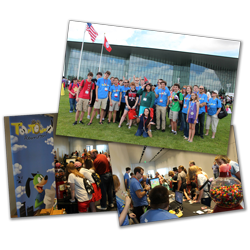 We contacted a few conventions which were being held around the time of Toontown's 12th anniversary, marking the beginning of summer, and it was quickly decided that OMG!Con was our best bet. A meeting was held the moment we got our acceptance email, but the question was -- what's next?!
No one expected us to hold a real life convention, neither did we! Joey helped plan out a big surprise post to announce it, and a mere 24 hours after that announcement, it was a hit! OMG!Con contacted us again, surprised at sudden influx of tickets that came from Toontown and offered a promotion code to give out to TOONS ONLY! They even scheduled us into the main event room.
With this many attendees, though, that only meant that we would have to make it even better than what we had planned. We received comment after comment, email after email about excited players who decided to spend their entire summer vacation trip coming to party with us.
The Convention Congregates!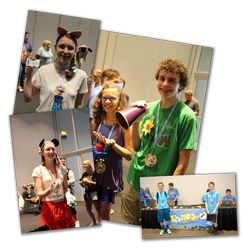 People came from all over the United States to come see us at OMG!Con - and our staff had to come from all around, too! None of us actually live in Kentucky, ironically enough. For our first convention, we wanted to try to get a centralized location where travel could be pretty even from all sides of the United States, which the overwhelming majority of our playerbase comes from.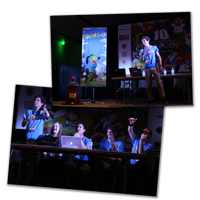 A lot of us flew, and some even drove for 12 hours straight! In addition to meeting all of you, we even got to meet each other for the first time due to the technological boundaries of our team. We come from all over the world, but meeting each other there was like seeing a distant family member.
In addition to the many players who came to see us, we had a couple of guest celebrities come and talk to us as well, such as Xander Mobus from Nintendo's Super Smash Brothers (3DS/Wii U) who gave us
this awesome recording
. We also designed a bunch of Toony props to check out, such as a real life Bean Bank and Estate phone!
The biggest and best part of the entire weekend was when the time finally came for our panel to begin. As the time approached, people were wrapped all around the walls and down the stairway just to get in. In total, there were over 250 people who came solely for Toontown!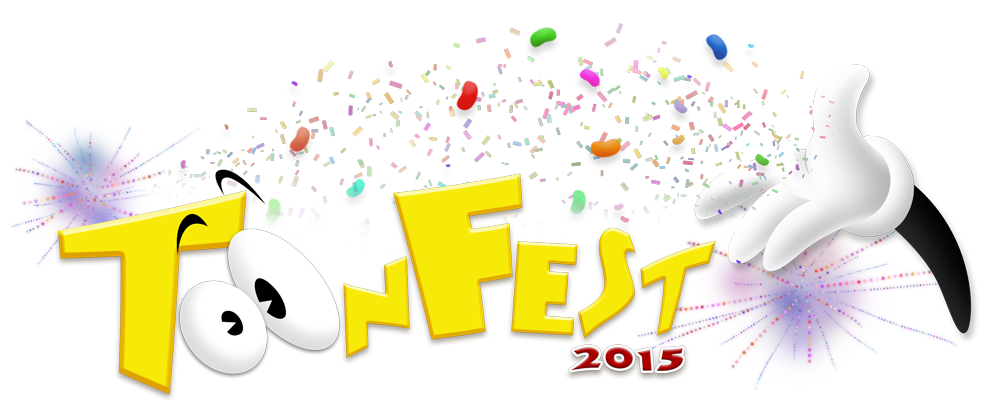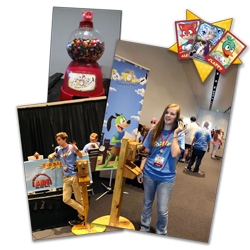 Now that you've heard all about ToonFest at OMG!Con, we want to hear about what we should do in the future! This event wouldn't have been possible without you, and we'd love to hear your thoughts on the next one.
Should we host it at OMG!Con again? Do you have any conventions that you'd like us to attend instead? We want to hear from you!
Wait - it's September
already?!
I have to run and prepare for the ToonFest 2016 convention now! What kind of prizes should we give? Trophies? Buttons? Beans?... Oof, I better get started!
Have a great time at ToonFest 2015!
---
Comments
Sorry! Comments are closed.
---
---
---
---
---
---
---
---
---
---
---
---
---
---
---
---
---
---
---
---
---
---
---
---
---
---
---
---
---
---
---
---
---
---
---
---
---
---
---
---
---
---
---
---
---
---
---
---
---
---
---
---
---
---
---
---
---
---
---
---
---
---
---
---
---
---
---
---
---
---
---
---
---
---
---
---
---
---
---
---
---
---
---
---
---
---
---
---
---
---
---
---
---
---
---
---
---
---
---
---
---
---
---
---
---
---
---
---
---
---
---
---
---
---
---
---
---
---
---
---
---
---
---
---
---
---
---
---
---
---
---
---
---
---
---
---
---
---
---
---
Back To Top