More News
Backstage: Moving Fashion Forward
Posted by The Toontown Team on September 8, 2015 at 9:00 AM
Hey there, Toons! I'm Maya, also known as 'Slate Blue Rabbit'. It's been around a year since the
last time
I wrote to you, and today I'm here to share with you one of my favorite things to do as an artist for the Toontown Rewritten Team -
Toontown Fashion!
While most of the big new projects we work on take a long time to make, smaller things like outfits and accessories have been released quite frequently. We've released a lot of them over the past two years, most of which I personally got to work on, but how are they made? Take a look at how we:

Selecting a Style
The real world has a
lot
of outfits and styles, but it isn't good enough to just pick a random one! It is very important to match the style of the items with the rest of the game. We try to provide something that will look unique, while still keeping it in line with the game style so it won't end up looking "out of place" -- like a Cog at the Gag Shop!
Outfits and accessories need to keep the colorful Toon style so you won't end up looking like a boring Cog, but it's still important to have the right balance of colors and shades that won't be
too
bright or colorful. Your eyes need rest when you spend your whole life playing Toont... I mean, when you have fun playing the game for 2 hours a day while taking
healthy breaks!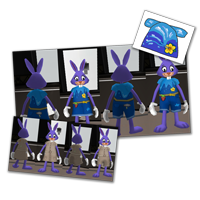 While some outfits are sort of generic, other outfits are made for specific events. When possible, we want the item to have some detail that is related to the event. Good examples would be the outfits from last year's ToonFest - the "Beta Bug Hunter" outfit was given to the people who helped us "catch" the in-game bugs on closed beta, and the squirt outfit was given to playtime players since during that time they were mainly working on training gags on their new toons.
We also try to make items that will go well with at least some of the outfits and accessories you already have in your closet, so that you can mix and match! Did you pick up a pair of Cog-Crusher Shades during Storm Sellbot? No other accessory matches the outfits!
Matching the Models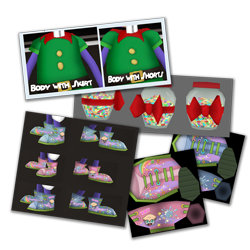 While trying to turn ideas into real in-game items, we often run into two main technical problems that forces into changing and flipping the idea all over. Items have to match all kind of toons, you know, and look as close as possible to each other on each toon type.
The 3D model for a body combined with a skirt is different than the model for a body combined with shorts, but they all use the same clothing! While long body types stretch the detail to the top, wide body types will stretch the same detail to the sides. Now, try to make a button that will look round on ALL of those!
The second problem that while a design may look great up close, details disappear when you're standing far away from them! A lot of tiny details will get lost and won't be seen at all when the model is not filling your whole screen. That means all details have to be big and clear enough in order for you to be able to see them from far away.
Toontastic Teamwork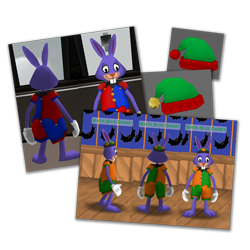 Now, I'm not doing any of this all by myself! After the first version is finished, every single item gets voted on from the rest of the team. The other artists give advice to improve, and the rest of the staff give feedback from the player's point of view. Sometimes we have more than one artist working together on the same file to get the full potential from the idea. A few minds are better than one!
Sometimes, after revisions, the designs will come out totally different! Did you know that the OMG!Con Shoes were denim and green, and the jester outfit from Halloween was an eye-blinding red and blue?
Making sure it's FUN!
The bottom line of the design process: The result has to be something that we would want to wear. As a player since Toontown Online opened, I was able to collect a lot of good ideas for things I've always wanted to see in the game, items I was missing, and the different styles the toons around the town like to wear. I am also counting on your feedback for the things we've already made - every time I see a toon wearing something I designed, I know that we've got it right!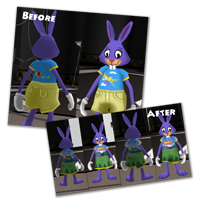 But what I'm completely sure about is that YOU collected some ideas of your own as well! What outfits or accessories you've always wanted to see in the game? What is that one item you are missing in order to make your outfit perfect? Share your ideas with me in the comments, and who knows, you might see some of them in the game at the future!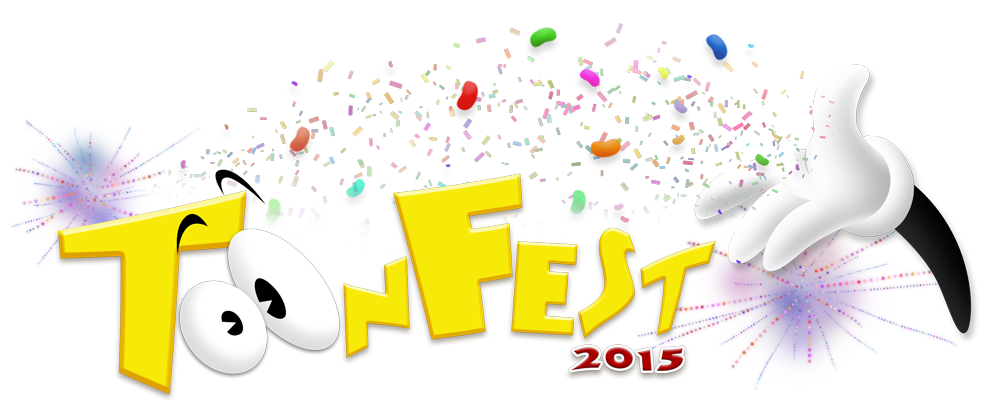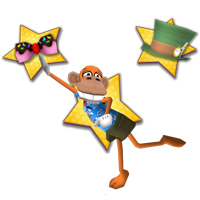 There are tons of new accessories and outfits coming up as ToonFest approaches, but in the meantime, I'd like to give you a sneak peek! Over to the right you can click to see just a very, very small amount of the new items coming to Toontown. In fact, ToonFest will be bringing more apparel to the game than any other event has yet!
You know, there is one more thing. I've heard a lot of talk lately about not having enough wardrobe space for all of the new outfits... And we certainly can't have that!
You may just be getting those expansions soon, and you'll certainly need them with the new items to come at ToonFest 2015. See you there!
---
Comments
Sorry! Comments are closed.
---
---
---
---
---
---
---
---
---
---
---
---
---
---
---
---
---
---
---
---
---
---
---
---
---
---
---
---
---
---
---
---
---
---
---
---
---
---
---
---
---
---
---
---
---
---
---
---
---
---
---
---
---
---
---
---
---
---
---
---
---
---
---
---
---
---
---
---
---
---
---
---
---
---
---
---
---
---
---
---
---
---
---
---
---
---
---
---
---
---
---
---
---
---
---
---
---
---
---
---
---
---
---
---
---
---
---
---
---
---
---
---
---
---
---
---
---
---
---
---
---
---
---
---
---
---
---
---
---
---
---
---
---
---
---
---
---
---
---
---
---
---
---
---
---
---
---
---
---
---
---
---
---
---
---
---
---
---
---
---
---
---
---
---
---
---
---
---
---
---
---
---
---
---
---
---
---
---
---
---
---
---
---
---
---
---
---
---
---
---
---
---
---
---
---
---
---
---
---
---
---
---
---
---
---
---
---
---
---
---
---
---
---
---
---
---
---
---
---
---
---
---
---
---
---
---
---
---
---
---
---
---
---
---
---
---
---
---
---
---
---
---
---
---
---
---
---
---
---
---
---
---
---
---
---
---
---
---
---
---
---
---
---
---
---
---
---
---
---
---
---
---
---
---
---
---
---
---
---
---
---
---
---
---
---
---
---
---
---
---
---
---
---
---
---
---
---
---
---
---
---
---
---
---
---
---
---
---
---
---
---
---
---
---
Back To Top