More News
It's Beginning to Look a Lot Like Winter
Posted by Paula Behr on December 22, 2016 at 2:00 PM
On the eighth day of winter, Toontown gives to you:
A VERY big blizzard,
Twice your gag experience,
Wacky winter carols,
AND A MEGAAAAAA COG INVASION!
(bum bum bum...)
A Brrrgh-sized blizzard
,
Eight New Toon Species,
Trees and lights o'plenty,
And a holiday packed with very merry news!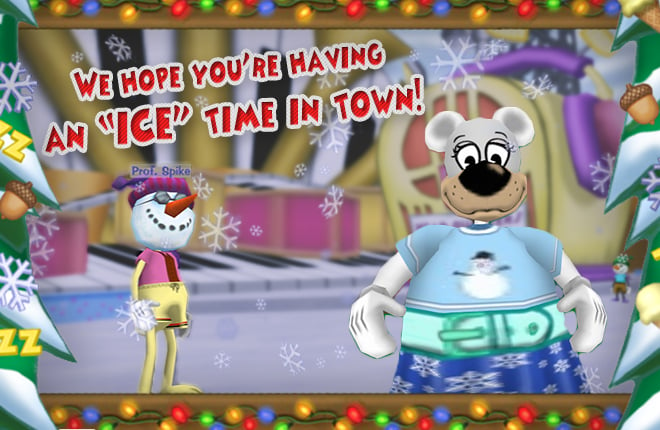 Hello there T-T-Toons!
Brrrrrrrrgh.
You'd think I would be used to the cold by now after running my shop, Hibernation Vacations, in the Brrrgh for so long!
My name is Paula Behr, one of the few local Polar Bears of Toontown. I was given my white coat of fur by
Slappy himself
back before he... Well, you know. Over the years, though, I've felt much more at home with the growing number of Polar Bears that come to town every Winter Holiday! I can't wait to meet more this year.
That's not the only thing making me feel at home, though. If you take a step outside your door -- you'll find that
every inch of Toontown is covered in snow!
Professor Flake wasn't kidding about that Blizzard after all!
Grab some hot cocoa, Toons, because the weather outside is frightful! As you cuddle up by the fire to warm up, however, take a look at the newest addition to our New Toon Candidates:
Toon Candidate: CHIPMUNK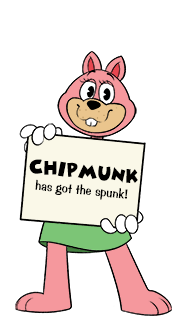 Jellybean Flavor:
Acorn
Favorite Activities:
Mini golfing, Singing in a band
Favorite Places:
Acorn Acres, The Peanut Gallery
Position:
Chipmunk has worked with campaign managers Chip and Dale in hopes to bring more activities to Acorn Acres, and lobby for ToonFest's return.
---
Heh, I can't help but smile when thinking of Chipmunk as our New Toon Species in town. Say, I wonder if they could find Alvin to sing a Christmas special?
I hope you enjoy the rest of your winter, and don't forget to stop by and say "Howdy!" sometime!
---
Comments
Sorry! Comments are closed.
---
---
---
---
---
---
---
---
---
---
---
---
---
---
---
---
---
---
---
---
---
---
---
---
---
---
---
---
---
---
---
---
---
---
---
---
---
---
---
---
---
---
---
---
---
---
---
---
---
---
---
---
---
---
---
---
---
Back To Top