More News
Carol of the Cogs
Posted by Lord Lowden Clear on December 21, 2016 at 3:00 PM
On the seventh day of winter, Toontown gives to you:
Twice your gag experience,
Wacky winter carols,
AND A MEGAAAAAA COG INVASION!
(bum bum bum...)
A Brrrgh-sized blizzard
,
Eight New Toon Species,
Trees and lights o'plenty,
And a holiday packed with very merry news!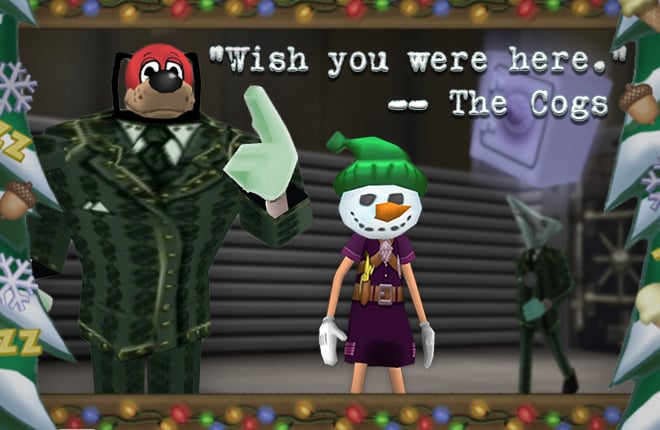 Hark! How the Cogs, Boring business Cogs,
All seem to say, "Toons go away!"
Christmas is here, Bringing good cheer,
High laff and low, all through the snow.
Splat! Pow! Splat! Pow!
SPLAT! POW! SPLAT! POW!
I've given the clearance:
Double Gag Experience!
From everywhere, Filling the air.
Gags all around! Throw, squirt, and sound!
Lure and trap too, Gifts from me to you!
Pies we will fling, While people sing,
Songs of good cheer. The Resistance is here.
Merry, Merry, Merry, Merry Christmas!
Merry, Merry, Merry, Merry Christmas...
---
Toon Candidate: PARROT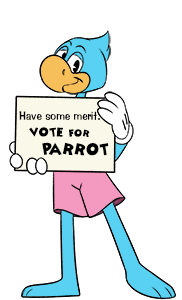 Jellybean Flavor:
Cracker
Favorite Activities:
Hide and Speak, Tweeting
Favorite Places:
The Toontown Airport, Pet Shops
Position:
Don't fall into false promises of other candidates. Parrots mean what they say so much that they'll say it twice!
---
It's no partridge in a pear tree, but you may see Parrot as a good candidate for the Toontown Species Election. I am sure that you enjoyed my little carol as well -- I've always wanted to have a music number.
As a gift from the Toon Resistance, all Toons will receive double experience for the next 24 hours in any area. Until next time, keep them busting -- with laughter!
Lord Lowden Clear
Leader of the Toon Resistance
---
Comments
Sorry! Comments are closed.
---
---
---
---
---
---
---
---
---
---
---
---
---
---
---
---
---
---
---
---
---
---
---
---
---
---
---
---
---
---
---
---
---
---
---
---
---
---
---
---
---
---
---
---
---
---
---
---
Back To Top