More News
Have a Holly Jolly Outfit
Posted by Shockley on December 23, 2016 at 2:00 PM
On the ninth day of winter, Toontown gives to you:
Cheerful Christmas costumes,
A VERY big blizzard,
Twice your gag experience,
Wacky winter carols,
AND A MEGAAAAAA COG INVASION!
(bum bum bum...)
A Brrrgh-sized blizzard
,
Eight New Toon Species,
Trees and lights o'plenty,
And a holiday packed with very merry news!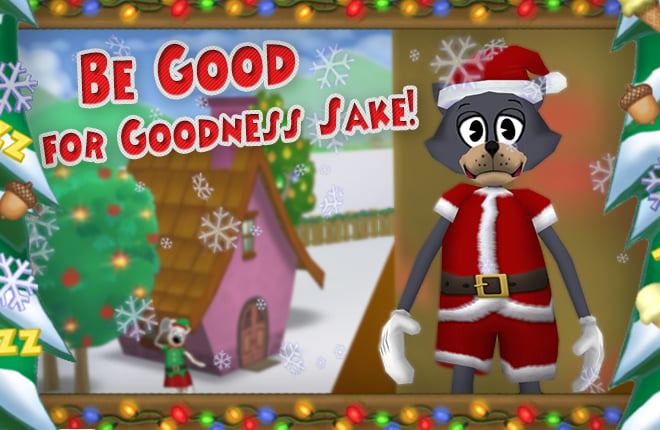 HO HO HO!
We're just two days away from Christmas! Don't let my outfit fool you -- it's me, Shockley, one of the Toon Troopers. I'm no Santa, but I've been standing on the corner of Loopy Lane today jingling a bell to collect donations for Toons in need. It feels good to give!
It's that same spirit of giving that's compelling me to tell you about two secret codes that you can use to spread your own holiday cheer. Open up your Shtickerbook, navigate to the Options page, and type in "
coming-to-town
" for an exclusive Santa outfit, or "
on-the-shelf
" to dress yourself up like a little elf.
That's not all, though. Starting today, Goofy's Gag Shop has started selling Festive Gags that will surely show those Cogs how to have themselves a merry Winter Holiday. Keep your eye out for them.
Now, here is today's New Toon Candidate. There's only one left to be announced tomorrow!
---
Toon Candidate: COW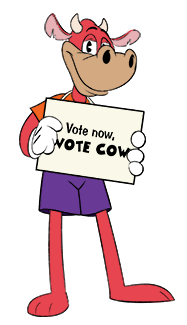 Jellybean Flavor:
Grass
Favorite Activities:
Mooing, Chewing, Playing the Cowbell
Favorite Places:
Pastures, The Milk Aisle
Position:
As the new Toon, Cow will use executive connections over at the Cattlelog to lobby for cheaper items.
---
Speaking of cattle -- have you done your Christmas shopping yet? As the Toon Council gives you all of these gifts, don't forget to send some gifts to your friends from the Cattlelog!
I hope that you enjoy these very merry outfits! Be on the look out for Winter Accessories also popping up in your next Cattlelog.
---
Comments
Sorry! Comments are closed.
---
---
---
---
---
---
---
---
---
---
---
---
---
---
---
---
---
---
---
---
---
---
---
---
---
---
---
---
---
---
---
---
---
---
---
---
---
---
---
---
---
---
---
---
---
---
---
---
---
---
---
---
---
---
---
---
---
Back To Top