More News
Will Surlee be Home for Christmas?
Posted by Doctor Dimm on December 24, 2016 at 2:00 PM
On the tenth day of winter, Toontown gives to you:
Surlee's lost package?,
Cheerful Christmas costumes,
A VERY big blizzard,
Twice your gag experience,
Wacky winter carols,
AND A MEGAAAAAA COG INVASION!
(bum bum bum...)
A Brrrgh-sized blizzard
,
Eight New Toon Species,
Trees and lights o'plenty,
And a holiday packed with very merry news!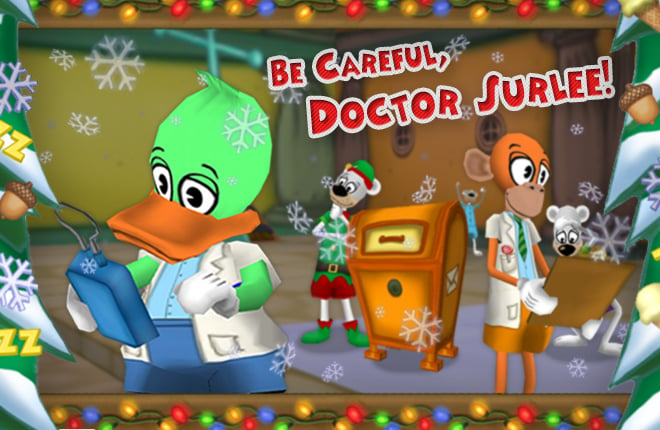 QUACK! This is an emergency worse than the time I attached jumper cables to my shoelaces! I'm in search of my colleague, Doctor Surlee. He left Loony Labs earlier, and I can't find him anywhere. I need his assistance in calibrating this Silly Sprocket! The last time he went missing like this was...
EUREKA!
I've discovered the cause, Toons.
Today is Christmas Eve!
That monkey
always
goes missing on Christmas Eve, as sure as the grape juice stains on my lab coat.
I used to blame his absence on last minute shopping, but say... If you ask me, I think he's out there for a different reason, and using the mailbox as an excuse. The Doctor is brilliant, but he can certainly be confusing sometimes. He's up to something silly, I tell ya!
Anyway, if you see Doctor Surlee on
Toontorial Street
just let him know that Dimm was looking for him. Wish him a Merry Christmas too, while you're at it. He usually sticks around until tomorrow.
Oh, also, I wasn't supposed to write this blog post. I just happened to see the editor on Sir Max's computer and deleted all of the text except for this bottom stuff to make room for my Missing Toon Report. I'll let you read the end of his post, which I'm sure wasn't nearly as important as mine. Dimm OUT!
...
---
Toon Candidate: DEER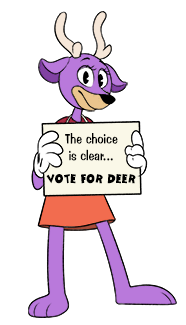 Jellybean Flavor:
Berry
Favorite Activities:
Prancing, Crossing streets
Favorite Places:
Goofy Speedway, The Forrest
Position:
With newly paved crosswalks, Deer hopes to put an end to Toons being unknowingly ran into by Cogs while crossing the streets of Toontown.
---
With that, the final New Toon Candidate has been announced to wrap up possibly the best blog post that I, Sir Max, have ever written. I know that story of how an elf and I saved Christmas with a Hot Chocolate powered wrapping machine was insane, but it's definitely the newest addition to the Sir Max List of Good Ideas!
It's officially Christmas Eve, which means you better be on your best behavior since Santa Toon is coming tonight. Have a wonderful night, Toons, and a magical Christmas morning!
---
Comments
Sorry! Comments are closed.
---
---
---
---
---
---
---
---
---
---
---
---
---
---
---
---
---
---
---
---
---
---
---
---
---
---
---
---
---
---
---
---
---
---
---
---
---
---
---
---
---
---
---
---
---
---
---
---
---
---
---
---
---
---
---
---
---
---
---
---
---
---
---
---
---
---
---
---
---
---
---
---
---
---
---
---
---
---
---
---
---
---
---
---
---
---
---
---
---
Back To Top