More News
Electoral Update: Pre-Election Jitters
Posted by Alec Tinn on February 22, 2014 at 2:00 PM
HELLO
Everyone! I'm back again just to give you a little Electoral Update on everything that's been going on in the everlasting election events of Slappy and Flippy.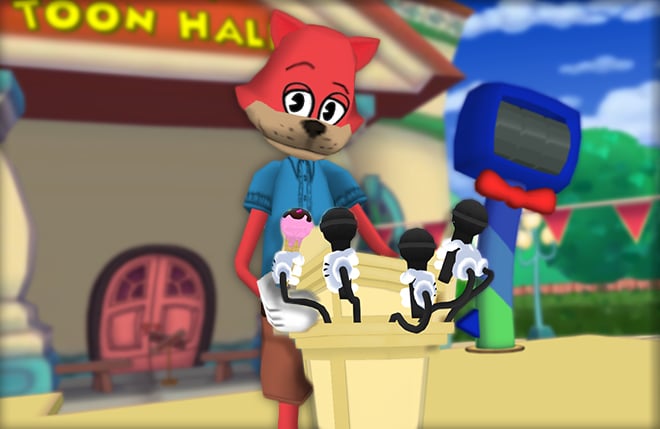 We kicked off this week with a
Perpetual Pie Fight
from none other than Flippy Doggenbottom himself, which was an immediate fan favorite. Pies have been soaring through the playgrounds ever since, which is the perfect pastime for toons to discuss Toonitics over.
Flippy's pies may have Clobbered the Competition for a while, but Slappy made an amazing advancement on Wednesday by showing everyone who he really is for the first time. We all know that lovable duck, but Slappy gave us a clear view of how outrageously toony he really is. He may not have started a perfect pie fight, but his
generous jellybeans and pie providers
were a nice start to his campaign, and he is promising even better for when he comes back tomorrow!
Finally, we rounded up this week with a
Flippy Friday
. Similar to Slappy, Flippy didn't give us too much to play with, but he did give us an incredibly credulous story on his arrival to Toontown, and a few insights as to how he was chosen for this campaign. His pie throwing technique is fantastically fun as well!
Flippy started out in the lead for this election, but Slappy is coming up quick. This marvelous madness between the two is getting sillier and sillier -- so silly, in fact, that it seems to be spreading throughout the entire election! Toons have reported that Flippy and Slappy's stands are starting to develop some Pre-Election Jitters and
literally coming to life!
Scientists from Loony Labs are looking into the peculiar purpose for this. Some are saying that the silliness being created from all of the fun has started to leak into the two inanimate objects to make them, well, animated!
That's about it for this Electoral Update. Who are you voting for? Remember: The voting starts
this Friday at 2:00 Toontown Time
, and the winner will be announced in Toontown Central at the same time on
Saturday, March 1st.
Not only will it feature the winner, but we have some toonerrific after-party events that feature some of the first new gameplay in years! We'll have a live video feed right here on our website so that all toons can watch and participate in the making of Toon History. See you there!
February 22, 2014 [ttr-alpha-gTBA]
Maintenance:

Features:
• Fix a few minor problems with election props
• Flippy and Slappy's stands have been reportedly seen getting some occasional pre-election jitters. Scientists are saying that they are starting to come to life from all of this silliness!

Launcher (OSX):



Bugfixes:
• Fix a major issue causing in-game sound not to play
• Fix an occasional crash when launching the game




---
Comments
Sorry! Comments are closed.
---
---
---
---
---
---
---
---
---
---
---
---
---
---
---
---
---
---
---
---
---
---
---
---
---
---
---
---
---
---
---
---
---
---
---
---
---
---
---
---
---
---
---
---
---
---
---
---
---
Back To Top