More News
Don't be Wacky: A Slappy Surprise
Posted by Slappy on February 25, 2014 at 2:10 PM
SURPRISE!
Slappy here! I bet you didn't expect to see me today. I didn't either, ha! Or at least, see me right here. I did expect to see myself. I own a mirror.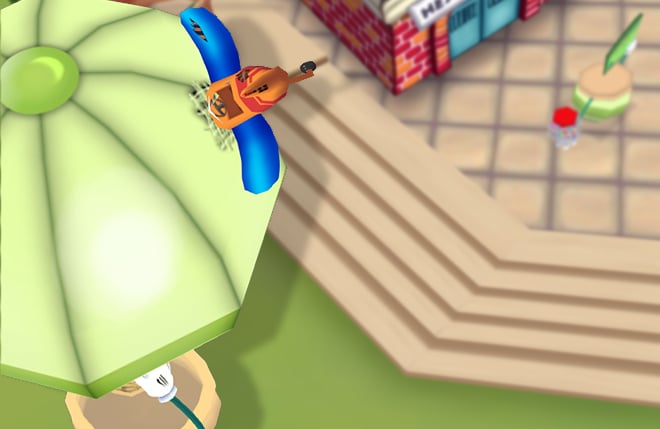 First of all, I want to give a big apology for the lack of balloons recently around these parts. I made my post on Sunday and took off for Toontown Central, but wouldn't you know it, a plane ran right into my balloon on the way there. We really need to get some skyward traffic control up there!
I patched up my balloon yesterday and got it prepped for flying, but that plane is gone for good. The wings are pretty horribly mangled. Pilot's okay, though! Speaking of the pilot, I need to give a shout out to my friendly foe, Flippy, who was supposed to have today's campaign post. He generously let me have it instead to make up for my Balloon burst, and he didn't have his prepared anyway. He went away muttering about how on earth he was going to fix some plane.
It does make me sad (Not totally! Just a few laff lost. No way am I letting anything make me sad.) to have to make my last post today rather than on the day before voting starts, but hey, what can you do? We'll make the most of it, and have a real good time with it too!
I don't want to hold you up here too much since we have some balloon riding to do and plenty of time to talk in the sky, but I will say one final thing: You toons are the best. I've gotten to know a lot of you over the course of these campaigns, and I know without any doubt that I made the right choice in moving from Duckburg to Toontown. Together, I know that we're going to make this town the Tooniest place in the Tooniverse!
Thanks for the super swell time together, and I'll see you either on my balloon or at the election!
Don't be wacky - Vote for Slappy!
February 25, 2014 [ttr-alpha-gf581167]
Maintenance:
• Code cleanup for the election event

Tweaks:
• Repainted the podium

Features:
• Repair Slappy's Balloon and fly it into Toontown Central. Stop by and see him for a nice chat in the sky!

---
Comments
Sorry! Comments are closed.
---
---
---
---
---
---
---
---
---
---
---
---
---
---
---
---
---
---
---
---
---
---
---
---
---
---
---
---
---
---
---
---
---
---
---
---
---
---
---
---
---
---
---
---
---
---
---
---
---
---
---
---
---
---
---
---
---
---
---
---
---
---
---
---
---
---
---
---
---
---
---
---
---
---
---
---
---
---
---
---
---
---
---
---
---
---
---
---
---
---
---
---
---
---
---
---
---
---
---
Back To Top