More News
Flip for Flippy: Painting Pies
Posted by Flippy on February 27, 2014 at 2:50 PM
I just can't believe that this is the last post I'll be making for this election period. It's been so long since I first started my campaign with those brisk black cats, but it feels like so little! I just can't tell you how much work has gone into this election, not only by myself, but Alec and the Troopers too! I haven't even seen Sir Max recently, and I usually talk to him daily. He's wrapped up in the election design, I suppose.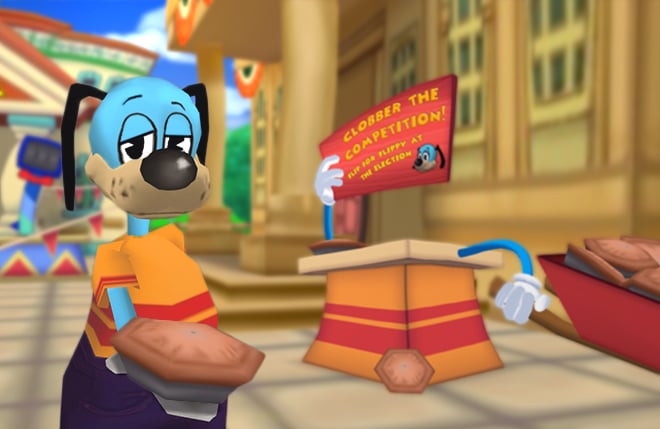 First off, let me give you a great big apology for the late post! I was trying to see if I could get my plane back together, but even some Blue Glue from Sticky Lou couldn't fix it up. Sadly, I spent all of my time on that and didn't have much else to prepare for my campaign today. Instead, I've decided to dedicate this post not to myself, but to all of you toons!
You toons have come from far and wide to do nothing but help with the construction and playing of our Toontastic Town, some of you coming before the Trolley was even working! You're the reason that Toontown is the way it is today, and the reason that we'll be able to open our gates sometime in the coming months. I know as Toon Council President I would do my best to speed that along, along with the many new things to do in the future.
I'm lucky enough to have support from some of you faithful fellows, and I'm sure that Slappy feels the same way for his supporters. No matter who wins this election, Toontown is just going to keep on growing to be more and more Toontastic. I can only tell you what I plan to do, but I do hope that we'll be able to actually see it happen.
Now, although I didn't get any activities together, I did manage to go and repaint some of those props around the area. Doctor Surlee has been telling me that the silliness is getting higher and higher, and I hope that I've played a part in helping that. Soon enough, they say, the props might even come to life!
With that, I'm afraid I have to cut this post short and head to Toontown Central for my last campaign run. Voting starts tomorrow, so make sure to be there!
Clobber the Competition by Flipping for Flippy at the election!
February 27, 2014 [ttr-alpha-gTBA]
Tweaks:
• Flippy went through and repainted a few of the election props for us, generating even more silliness!

Bugfixes:
• Slappy's phrases are now the same for every client, rather than each client picking their own phrase for him to say.

---
Comments
Sorry! Comments are closed.
---
---
---
---
---
---
---
---
---
---
---
---
---
---
---
---
---
---
---
---
---
---
---
---
---
---
---
---
---
---
---
---
---
---
---
---
---
---
---
---
---
---
---
---
---
---
---
---
---
---
---
---
---
---
Back To Top