More News
Don't be Wacky: High in the Sky
Posted by Slappy on February 23, 2014 at 2:00 PM
Oh boy, am I excited!
(Spoiler: I am!)
You toons really aren't prepared for this next campaign of mine. Heck, even I wasn't prepared for it!
Ready? No no seriously, are you? You don't seem to be answering, so I'm just going to tell you anyway: I recently got myself my very own
Hot Air Balloon!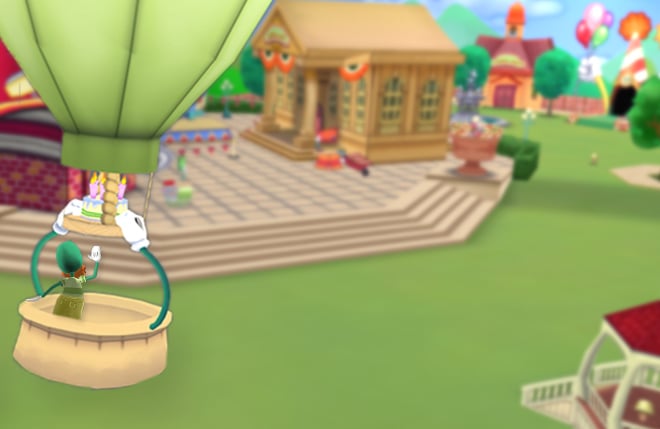 Now, I know it's silly. Maybe it's even wacky. It's just, well, ever since I was a young duckling I've always dreamed of being a Balloon Salesman. Some toons wanted to be doctors, some wanted to be presidents, and I just wanted to be a Balloon Salesman. (I'd settle for President, though.) Something about Balloons just fascinates me. They soar up, going beyond the world as we know it and reaching out to somewhere beyond. They defy gravity, they're full of creative colors, and they're just plain fun!
During my last campaign, I was talking to a few toons in Toontown Central about that quirky dream of mine. Apparently, a good fellow named Doctor Surlee overheard. He approached me later that very day and did something I had never even dreamed of: He managed to take one of my old hot air balloon toys and bump it up to 10 times its normal size! I can't explain it at all, he seemed to use some sort of Portable Design method of his -- The same one used in those crazy karts and catastrophic cannons.
I was almost ready to quit the race entirely and move onto my true dream as a balloon salesman, but then a thought came to me.
Why not both?
You toons are the greatest, and I no siree am I saving this balloon for myself! Besides, I figured that we needed something else full of hot air to keep Flippy company. (I kid! I kid.) I've brought the balloon over to Toontown Central using The Doc's portable design method, and it's docked there ready for you to fly in! Come on over and take a ride, as well as have a chat with me. You guys know enough about me, so I want to get to know about you!
Oh, and by the way: it's free! Can't go wrong with free. I'll see you in the sky!
Onwards, to the clouds~!
---
Comments
Sorry! Comments are closed.
---
---
---
---
---
---
---
---
---
---
---
---
---
---
---
---
---
---
---
---
---
---
---
---
---
---
---
---
---
---
---
---
---
---
---
---
---
---
---
---
---
---
---
---
---
---
---
---
---
---
---
---
---
---
---
---
---
---
---
---
---
---
---
---
---
---
---
---
---
---
---
---
---
---
---
---
---
---
---
---
---
---
---
Back To Top