More News
Flip for Flippy: Toontastic Trajectory
Posted by Flippy on February 21, 2014 at 2:00 PM
Welcome back to my Cream Pie Campaign! Flippy here once again, though this time I don't have anything quite as awesome as pie battles: Just a couple of awesome additions to this wacky war!
Before I move on to those amusing additions, I promised you on Monday that I would let you hear about myself. Presidency may include planning preposterous events, but I need to take some time off to tell you about my toony self as well! Hmm, where to start...?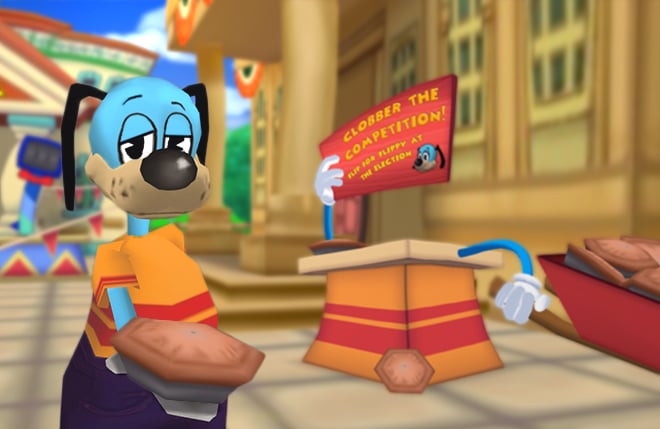 Well, I'll start off by telling you how I got here in Toontown. I've been a resident for quite a while now! I first moved in to Toontown in 1999, just a year after construction started. Oh boy, I remember that day like it was yesterday! I had been eager to move into Toontown ever since I heard about it all of those years ago. And when Mickey was declared to be Mayor of the town? Boy, I was sold!
Mickey has always been a humble hero of mine. I loved watching his movies as a tiny tot, and I knew that I needed to move into town just to meet him! I wanted to move in as soon as I could, but I was going through Tooniversity at the time to get my degree in Loony Literature and Animated Adjectives. A year later I earned the degree and submitted my application to be accepted as one of the first residents of Toontown. A few months later, I got a letter from Mayor Mickey himself saying he was astounded by my application and gave me a key to move in!
I remember riding on the trolley tracks on the way here. When we pulled up to Toontown Central, it was unlike any playground I had seen before. A utopia of toons! One of the first things I did was go up to a green dog nearby who was handing out some bamboo fishing rods: Sir Max. He handed me a rod and welcomed me to the town, but some of the TTPD started chasing him before I had a chance to introduce myself. Apparently he had stolen an Ice Rink just a few days earlier. That's Sir Max for you. I caught up with him a few weeks later, and we've been good friends ever since!
After meeting Sir Max, I started walking around town and happened to notice that a Speedway was under construction by some sort of Speedway Master. I knew this would be the perfect town for me upon seeing it, because it was almost
exactly
the same design that I had been thinking of on my way there, straight out of my imagination! I talked to a nearby fella who was inspecting it with blueprints of the building in his hand, a scientist named Doctor Surlee. I'm surely sure that you have heard of him -- who hasn't? He's the greatest mind in the town! I started talking to him and we also became quick friends. He really knows how to take an idea and bring it to life, creating plans some of the best things around town. He even designed the Laff Meter, you know!
Talking to Surlee is what really made me want to help this town. I didn't want to be an average toon, I wanted to be something bigger. I wanted to help. Surlee and I shared so many of the same ideas, it was like he had a perfect vision of every single thing I had been thinking of. From Party Activities to Playgrounds, Surlee could always create the most astounding blueprints. He would make sure every detail down to the treads on tires are correct. Toons like him are the reason I started contributing to helping Toontown, which led to my surprise of being picked as a Presidential candidate by Mickey none other than himself.
Hey hey hey, that's enough about that backstory. I hope it gives you a bit more insight on the toon I am, and the toon I will be. My main point of all of this is that I want to put my full support into Loony Labs as President. And not just Loony Labs, but toons like Sir Max, toons like Doctor Surlee, and toons like you! Toons with creativity, imagination -- and a massive amount of cream pies!
And speaking of pies: Before I sign off, I nearly forgot about the amusing addition to this wacky war! Not only do I know the secret to baking a perfect pie, but I know the secret to the most Toontastic Trajectory! You see, it's all in the wrist. You have to plan your tender timing, wait until just the right moment, and let it fly! I'll be in Toontown Central to teach you all the way to throw a perfect pie and hit your friends every time. I'll save the more exciting details for next week!
That's about all for today, toons. Thanks for listening, thanks for voting, and thanks for being you. Stay TOONed for more erratic election campaigns!
February 21, 2014 [ttr-alpha-ga587aa6]
Bugfixes:
• Fix jellybean texture in Slappy's stand (Thanks Sweet!)

Features:
• Flippy has taught everyone a new pie throwing technique, making it easier to have battles against smaller toons

---
Comments
Sorry! Comments are closed.
---
---
---
---
---
---
---
---
---
---
---
---
---
---
---
---
---
---
---
---
---
---
---
---
---
---
---
---
---
---
---
---
---
---
---
---
---
---
---
---
---
---
---
---
---
---
---
---
---
---
---
---
---
---
---
---
---
---
Back To Top