More News
Flip For Flippy: Cobber the Competition!
Posted by Flippy on February 17, 2014 at 2:00 PM
Heyo, everyone! It's me: Flippy!
As Alec Tinn let you know on that Silly Super Saturday, today marks the start of my
Cream Pie Campaign
. I've moved my stand in, unloaded some pies, and they're ready to fly!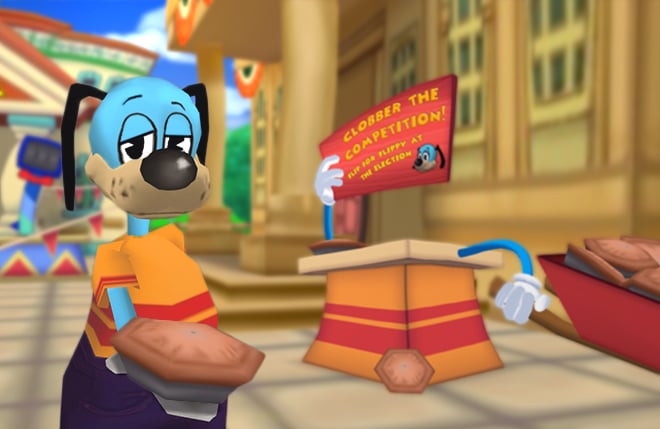 Starting today and going on for the rest of the election, my campaign stand in Toontown Central will be serving a fresh batch of top-of-the-line cream pies for
no cost whatsoever
! Feel free to chow down on them, or perhaps play a favorite pastime of mine: The Grand Cream Pie Showdown!
I wish I could use this post to tell you more about myself, but they've set a limit on how much I can say in a post. (Which is going away if I'm elected, by the way. No need to stifle any crazy creativity!) Besides, you Toontastic Toons don't want to hear about me: You want to have fun! There's plenty of time to talk when your friend has a face full of pie.
This is just phase one of the Cream Pie Campaign. I'll be back on Friday to deliver some even more new news, as well as give you those boring details about myself. I'll be out there in the middle of the pie fights as well, so feel free to stop by for a chat! In the meantime, I need to get back to work on baking these pies. I love the smell of pie in the morning. See you soon, and remember:
Flip for Flippy at the election!
February 17, 2014 [ttr-alpha-gf22f5c5]
Bugfixes:
• Fix a crash on Trolley Games introduced with Saturday's cleanup
• Downscale a few of the new textures for lower-end computers

Features:
• Rearrange some of the election props to make it less cramped
• Flippy has started his campaign! Who will win you over, him or Slappy?



• Put a portable hole at the bottom of Flippy's wheelbarrow to deliver an endless amount of Cream pies
• Flippy's Campaign stand is open for business!




---
Comments
Sorry! Comments are closed.
---
---
---
---
---
---
---
---
---
---
---
---
---
---
---
---
---
---
---
---
---
---
---
---
---
---
---
---
---
---
---
---
---
---
---
---
---
---
---
---
---
---
---
---
---
---
---
---
---
---
---
---
---
---
---
---
---
---
---
---
---
---
---
---
---
---
---
---
---
---
---
---
---
---
---
---
---
---
---
---
---
---
---
---
---
---
---
---
---
---
---
---
---
---
---
---
---
---
---
---
---
---
---
---
---
---
---
---
---
---
---
---
---
---
---
---
---
---
---
---
---
---
---
---
---
---
---
---
---
---
---
---
---
---
---
---
---
---
---
---
---
---
---
---
---
---
---
---
---
---
---
---
Back To Top